ABT Side SKirts
Go Back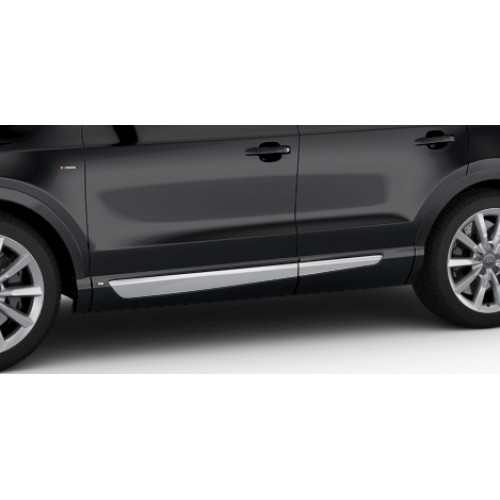 Product Information
also suitable for cars with
styling package offroad Audi exclusive (see additional information) -
- S-Line exterior package (see additional information)

Limitations:
not suitable for:
- Audi RSQ3_8U0 (SUV, MJ2014)
- Audi RSQ3_8U05 (SUV, PA, MJ 2015)

Additional information :
- For vehicles without an equipment `` full paint`` or for vehicles with an optics package off-road Audi exclusive, the standard wheel arches should be lacquered in car paint for visual reasons.
- In the case of vehicles with an S-Line exterior package, the wheel arches must be replaced with the wheel arches of the standard version before installing the Abt door railing strips. For the above-mentioned visual reasons, The primed variant to order. This reduces the paintwork effort.
- On vehicles Audi Q3_8U05 (from MJ 2015), the standard version of the wheelbars correspond to those of the S-Line exterior package and therefore do not need to be replaced before assembly of the ABT door trim panels.
- For Audi Q3_8U05 (from MJ 2015) with standard wide wheels (starting with 19 "series tires), the front ABT door sill panels must be slightly modified with workshop equipment.

- The adhesive, primer and sandpaper required for assembly are not included in the scope of delivery. The approved adhesives can be used in the case of Volkswagen or Audi (glue: article number 000.071.785; glue set: article number 00A.071.785) or Abt Sportsline (glue: article number ANN 800 009; glue set: Reference number ANN 800 019).
Four adhesive sets or four tube glue and two vial primers are required for assembly.
Brand:
ABT
Product Code:
8U0817260