034 Motorsport Adjustable Upper Control Arms
Go Back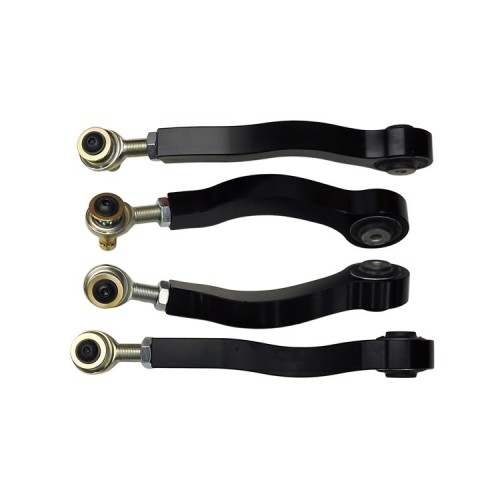 Product Information
Fitment:
2009 - 2014 Audi A4 (B8)

2010 - 2014 Audi S4 (B8)

2008 - 2014 Audi A5 (B8)

2008 - 2014 Aud S5 (B8)

2013 - 2014 Audi RS5 (B8)

2009 - 2014 Audi Q5/SQ5 (B8)

2012 - 2017 Audi A6 (C7/C7.5)

2012 - 2017 Audi S6 (C7/C7.5)

2012 - 2017 Audi A7 (C7/C7.5)

2012 - 2017 Audi S7 (C7/C7.5)
Features:
CNC Machined Billet 6061 Construction, Black Anodized Finish

034Motorsport Density Inner Bushings

Aurora Spherical Bearings Featuring Teflon Race Lining

Built in Safety Washer to eliminate any chance of the spherical ever separating

Arm sets ship set to factory OEM length

Camber Correcting: These offer over 5/8" of outward adjustability from stock length, adjustable in 1/36" increments, each 1/36 adjustment is approximately .1 degrees for highly accurate adjustments.

No tightening creep like you get with a turn buckle.

Adjustments can be easily made by threading out an M6 head allen bolt, the pinch pin stays installed in the upright. A jam nut keeps everything tight once adjusted.

Dust boots are now included with all adjustable upper control arms. We ship the boots uninstalled; once you have the alignment set, install the dust boots before final installation.
Arms ship with everything pictured and assembled, price for one kit for one front suspension.
Note - Do not run the heims with less than 8 threads in the control arm itself, less threads can cause failure of the part and 034Motorsport will not be responsible for installation errors. If your alignment requires that you must have less than 8 threads engaged then contact us, but do not run the car with less than 8 threads engaged! Tighten M10 pan head allen bolt to 45 ft/lbs with blue loctite.
Control arms do not have to be removed to adjust camber. Please see the video below highlighting the ease of adjustment.