Addict Motorsport Design TVS 1900 Supercharger Kit for S5
Go Back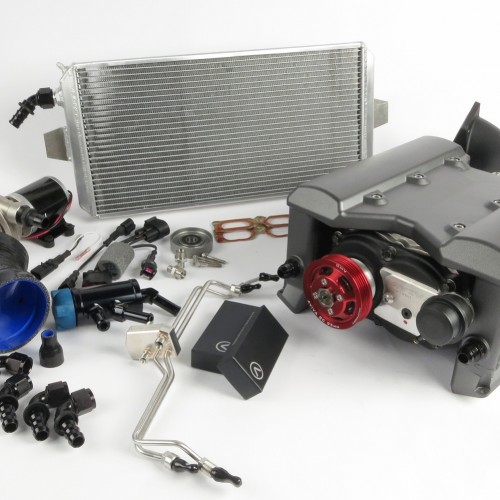 Product Information
Developed in partnership with Aviva Instruments and United Motorsport, we bring you the ultimate forced induction system for the Audi 4.2L V8 FSI platform utilizing the Eaton TVS R1900 Supercharger, which is ideally matched to Audi's 4.2L FSI high revving motor, for the power and performance goals of our demanding enthusiasts. The result of all the design engineering, rapid prototype iterations and computer assisted simulations is best described as Instant Thunder from 2500-8500 RPM. The power band is generously supplemented from the moment the clutch is engaged to the very edge of red line, realizing the full potential of Audi's quattro AWD system to generate forward thrust.

Specifications
5-Axis CNC Machined manifold plenum and fully optimized CNC ported runners

Massive twin air-to-water inter-coolers, designed for steady state operation at over 800CHP

Aviva [ HPMFS ] High Pressure Fuel Management System for the Aviva 4.2L FSI TVS SC system

Aviva high flow aluminum cast and machined RS4 specific supercharger air inlet

Precision AN fluid fittings and interconnection throughout the system

Fully upgradable and customizable performance packages. .5 Bar to 1.25 Bar operating boost levels

Designed and manufactured in Southern-California

Eaton Magnuson TVS R1900 supercharger

Eaton's Twin Vortices Series.

75% isentropic efficiency.

Eaton's Twin Vortices Series.

Magnuson housing.

Large frame short helix rotors ideal for high PR operation.
The AMD Audi S5 Supercharger kit runs 10psi at the intake manifold, which requires more fuel than the stock pumps can deliver. As such, the High Pressure supercharger kit includes two Aviva HPFP's, an oversized aluminum heat exchanger, and a high-flow electric coolant pump(up to 120+ L/min)

Software & Calibration
Addict Motorsport Design & United Motorsport UK partnered to develop the most advanced & exclusive S5 calibration and ECU tuning program available. Remastering the assembly code in the dual ECU high-speed V8 S5, has allowed United Motorsport to achieve custom and innovative functions exclusive to them. Using Addict Motorsport Design's in house chassis & road load simulation dyno for iterative refinements to all aspects of the tune, we have been able to calibrate the high revving naturally aspirated motor into a forced induced, snap-revving, torque-powerplant. We Orchestrate the optimal combination of boost, fuel, ignition timing, cam phase and more to be in perfect harmony with the drivers requests.
UM Launch Control:
S button On - Car in neutral - Hold rpm's to where you want to launch, blip brake with your left foot. You'll see the check engine light blink once to indicate it's set. Depress clutch, and put your right foot fully to the floor. Car will keep rpm's to where you set them. Release clutch to launch.
FastFlash: Under 4.5 Mins per ECU for File updates and programing. Either at home with the UM Cable, or at your authorized installation & service center, we are able to flash load through the convenience of your vehicles OBD port.
Closed loop cooling control:
The ECU programing monitors intercooler performance and controls necessary fan modules to respond to varying conditions of available airflow. This ensures that the twin air to water inter-coolers are primed with cool water and ready for launch.

Supercharger Kit Contents:
Eaton/Magnuson TVS R1900 supercharger

5-axis machined AL intake manifold

High flow cast AL intake

Exclusive low profile actuator system

HPFMs High capacity fuel lines

High flow waterpumps

Large front mount heat exchanger

2 Aviva HPFP

OEM RS4 Idler Pulleys and Belt

Engineered stainless steel brackets

OE iat sensor relocated post intercooler

High quality coolant lines and AN interconnections

Plug and play wiring system

Stainless steel hardware

Intake gaskets

AMD/UM Software
*Late Model 4.2L S5's will need the fuel rails and lines from early model S5's
**Please contact us for any International orders