034 Motorsport Rear Upper Adjustable Control Arms
Go Back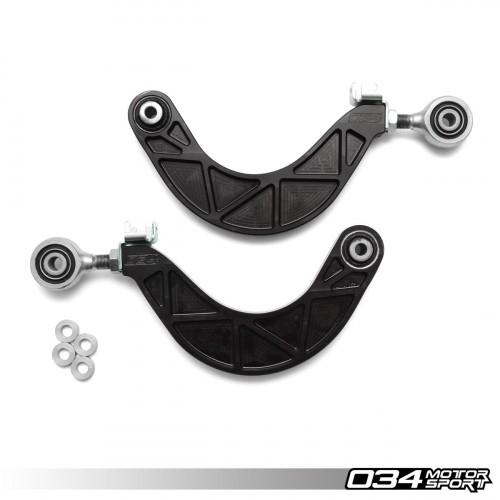 Product Information
We're proud to offer 034Motorsport Density Line Rear Adjustable Upper Control Arms for MkV/MkVI/MkVII Volkswagen and 8J/8P/8V/8S Audi applications!
034Motorsport's Density Line Rear Adjustable Upper Control Arms allow for simple and precise camber adjustments. Dialing in your alignment has never been easier! Constructed from billet aluminum, the arms are much more durable compared to the factory stamped steel arms. In addition, Density Line Rear Adjustable Control Arms feature a Forged Steel Threaded Rod End and 90 Durometer Rubber Bushings to ensure longevity and minimize deflection under load - ensuring that proper suspension geometry is maintained under all conditions.
These arms are a direct replacement for the factory Rear Upper Control Arms and allow for approximately 5 degrees of camber adjustment beyond what the stock eccentric bolt allows.
Billet Aluminum Construction - Anodized Black

Genuine Aurora Spherical Bearings

Approximately 5 Degrees of Camber Adjustment (-2.4 Degrees or +2.6 Degrees)

Adjustable in 1/36" Increments. Each 1/36" Corresponds to ~0.18 Degrees.

Dust boots now included!
2005 - 2013 Audi A3/S3/RS3 (8P)

2015 - Present Audi A3/S3 (8V)

2007 - 2013 Audi TT/TTS/TTRS (8J)

2007 - 2009 Volkswagen Eos (MkV)

2010 - 2013 Volkswagen Eos (MkVI)

2006 - 2009 Volkswagen Jetta/GTI/GLI/Rabbit/R32 (MkV)

2010 - 2014 Volkswagen Golf/GTI/Rabbit/R (MkVI)

2015 - Present Volkswagen Golf/GTI/R (MkVII)

2010 - 2015 Volkswagen Jetta/GLI (MkVI)

Independent Rear Suspenion (IRS) Models Only

2006 - 2013 Volkswagen Passat

2008 - 2013 Volkwagen Tiguan
These arms are perfect for track junkies and the hellaflush crowd alike!
If you're a track junkie, these arms will allow you to dial in your camber as desired for track events, and eliminate the stock rubber bushings, which deflect under load.
If you're hellaflush, these arms will make you more flush, by allowing you to run hella negative camber.
Please Note: Do not run these arms with less than 8 threads engaged in the aluminum body!