Revo K04 Turbo Kit Exc. Software for 2.0TSI
Go Back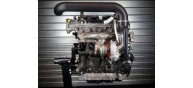 Product Information
The Revo 2.0T TSI Stage 3 Turbo kit combined with Revo Stage 3 software* can give up to 164bhp and 215Nm peak increases over standard quoted figures with smooth power delivery and excellent drivability.
With the larger turbo-charger and supporting Stage3 software the 2.0TSI engine is given an entirely new lease of life, seeing over 360bhp and 360ftlb along with increases throughout the rev-range making for not just a powerful car but a true all-round performance car. Whether you have a 2.0TSI Gti, LeonFR, Scirocco, or even a VW Tiguan a Revo Stage3 package will give you an incredibly capable and rewarding vehicle to drive.

THIS KIT WILL FIT TSI MOTORS ONLY
The Borg Warner turbo has been modified to Revos' exact standards and features a set of custom silicon hoses which relocates the factory diverter valve.

The Revo Borg Warner K04 - 0064 benefits from a redesigned outlet that not only removes the OEM resonator but increases airflow, as with all Revo products the quality of the work is second to none. Our comparison images show the quality/ superiority over competitor K04 turbos on the market (see images of Revo K04 vs Competitors K04). The kit comes complete with all new gaskets, bolts and fittings require for simple installation.

The hoses themselves have been made with stepped necks so the transition of airflow is smooth throughout the system, the intake hose on the TSI andhas been designed so that you can reduce the neck size to accommodate the factory intake set up or an aftermarket intake with 3 varying reducers. The diverter valve relocation features a one piece machined housing for the OE part to bolt to and then connect to the new silicon hoses.

| | | | | |
| --- | --- | --- | --- | --- |
| | Power (bhp) | Power (kW) | Torque (lbft) | Torque (Nm) |
| Stock OE quoted | 200/207/211 | 149/154/157 | 207 | 280 |
| Revo Stage 3 | 364 | 271 | 365 | 495 |
Our comparison images show the quality/ superiority over competitor K04 turbos on the market, giving increased airflow with the redesigned outlet.
Competitor
Revo K04 Kit