AWE Tuning 3.2L Touring Edition
Go Back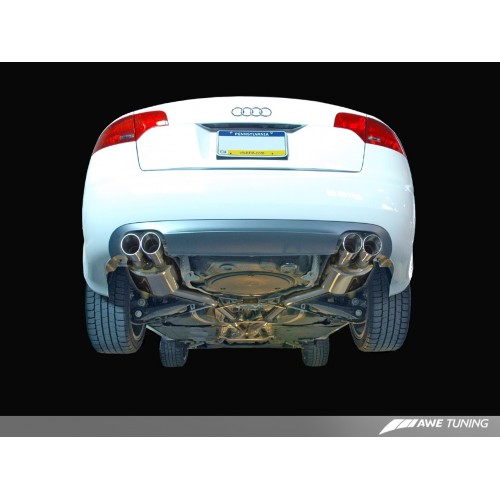 Product Information
If you're looking for subtle lower decibel with our Touring Edition Exhaust System, our Exhaust provides a solution for every discerning owner.
3.2L Touring Exhaust System
The more civilized of the family is the A4 3.2L Touring Exhaust. This system features front, central and rear resonators to keep overall volume to an acceptable level. Our resonators are a straight through design to aid in sound tuning without providing any restriction.
The Resonated Touring Exhaust is the perfect Performance complement for the daily driven A4 3.2L.
Tips and valences
Touring Edition of our A4 3.2L Exhaust System are available with:
Dual 90mm (3.5 inch) tips designed to work with the stock rear bumper valance
Quad 80mm (3.15 inch) slash cut tips designed to work with the 2005.5 – 08 S4 rear valance
No matter the tip option you go with, they come engraved with AWE Tuning logos and are double walled to ensure a mirror polish, even under hard usage. Tips are in Polished Silver or our noted Diamond Black plating. Also, each tip is individually adjustable so you can set stagger and depth into bumper to suit your personal taste.