AWE Tuning 3.2L Touring Edition Catback Exhaust
Go Back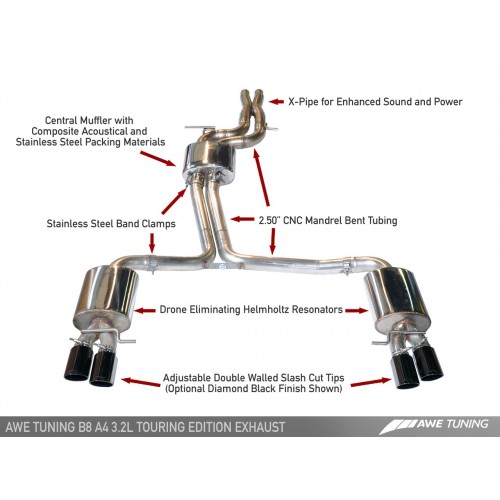 Product Information
The Touring Exhaust features an x-pipe for enhanced exhaust tone and specially designed Helmholtz Resonators to eliminate drone. The A5 Touring Exhaust is the perfect performance compliment for the daily driven A5 3.2L.
Highlights
Hand-crafted, every detail of these exhausts were labored over to ensure maximum performance and longevity.
+ 8hp, +7tq at the crank.
Increased pipe diameter to 2.5" to better let the engine exhale.
Strategic elimination of mufflers to release tone when uncorked.
Available with polished silver or diamond black adjustable tips.
Engineered, developed, tested and manufactured at AWE Tuning facilities.
Thick .065" wall T304 stainless steel tubing.
Stainless steel TIG welds.
High quality stainless steel band clamps.
Stainless steel center muffler with OEM grade stainless steel wool and German composite packing material.
Optional downpipes for fine tuning sound volume.
Lifetime Warranty.
Both Touring and Track Editions of our A5 3.2L Exhaust System are available with:
Dual 90mm (3.5 inch) tips designed to work with the stock rear bumper valance.
Quad 80mm (3.15 inch) slash cut tips designed to work with the S5 rear valance.
Further, each tip variation is available in standard Polished Silver or our famous Diamond Black plating. The tips sport engraved AWE Tuning logos and are double walled to ensure a mirror polish, even under hard usage.
Resonated Downpipes vs Stock
For A5 owners looking to fine tune the sound of the Touring Exhaust even more, we suggest adding AWE Tuning Resonated Downpipes. AWE Tuning Resonated Downpipes feature larger than stock resonators in order to produce a mellow sound volume, and while they are compatible with both the Touring and Track Edition Exhaust Systems, the notable difference will be heard on the Touring system. AWE's exhaust systems are award winning; hand built works of art. Trtuly what your Audi desrves.