AWE Tuning SwitchPath Exhaust for 2013+ Audi R8 4.2L
Go Back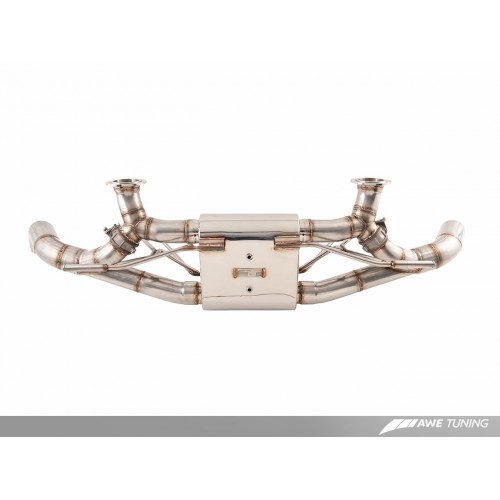 Product Information
For 2013 and newer

The Audi R8 4.2L SwitchPath™ Exhaust sets a new standard. Beyond the hand crafted detail that is standard for every AWE Tuning Performance Exhaust, this one packs a little something special: The R8 4.2L Exhaust incorporates a proprietary mechanical valve system that controls sound volume:
Under part throttle and idle, valves route exhaust gasses through a central muffler, keeping sound tame and drone free.

At 3/4 throttle application and more, the valves open and the system is unleashed – going into "straight pipe" mode.

An in-cabin mounted electronic SwitchPath™ Remote toggles the mechanical valves between "normal" and "straight pipe mode." Practical.
The SwitchPath™ Exhaust line has set a new bar. SwitchPath™ Exhaust highlights include:
Designed and manufactured in-house at AWE Tuning

Crafted from T304 stainless steel

Uses Factory Tips

No Check Engine Light - Guaranteed

German Engineered control valves

CNC machined V-Band connections

One piece, full bolt on system means easy and reversible installation

Programming optimized for R8 engine characteristics

Lifetime Warranty
Please note that due to the elimination of catalytic converters, this exhaust is legal only for racing vehicles which may never be used upon a highway.
If you have an R8 4.2L and you're looking to make one of the most meaningful evolutions available, this is your move.
of the most meaningful evolutions available, this is your move.