AWE Tuning Track Exhaust System for F56
Go Back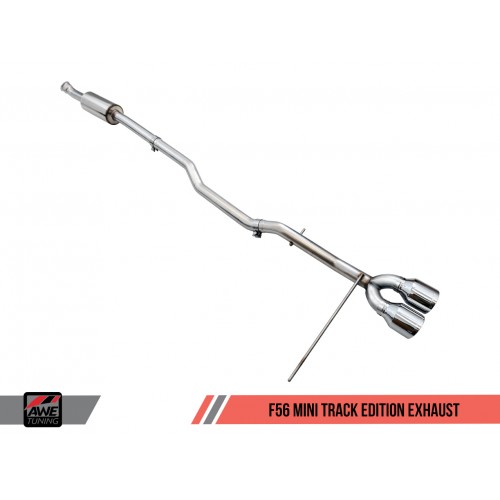 Product Information
Our approach was simple: Let's take this ridiculously fun car and add some… aggression. Let's add some disobedience. Let's add some mean.
Presenting the AWE Tuning F56 Mini Cooper S Exhaust Suite. A grin-worthy soundtrack coupled with signature AWE Tuning performance and quality honed over decades of supercar engineering. Let's get ready to motor. Harder.
Max gains of 10 hp and 19 ft-lbs of torque to the crank

Less is more: Clean, straight-through design maximizes performance

Engineered, designed, and manufactured in-house at AWE Tuning

Handcrafted and CNC mandrel-bent from 2.5" U.S.-sourced T304 stainless steel

102mm double walled adjustable slash-cut tips available in Chrome Silver or Diamond Black

Direct bolt-on system for factory-like simplicity

No Check Engine Light - Guaranteed

Perfect Fitment - Guaranteed

Featuring the AWE Tuning Lifetime Exhaust Warranty
The Track Edition Exhaust:
If you're all about 100% agro 100% of the time, the Track Edition is for you. It's known to get raucous in the mid-range and could be a little much for many, and for that reason, this system can't be returned due to sound: so be ready, my friends!
The F56 MINI Cooper S Track Edition Exhaust takes the engineered design of the Touring Edition Exhaust and replaces the AWE Tuning 180 Technology® resonator with a straight pipe section, delivering an even bigger dose of scream out of a small package (snaps, crackles, and pops included, and enhanced).
Track Edition Exhaust notes: As mentioned above this system can't be returned or exchanged based upon volume preference. Further, the tone gets particularly loud on manual cars in the mid range, and for that reason, we recommend the Touring Edition Exhaust for manual cars. The Track Edition Exhaust *can* be converted at a later date to a Touring Edition Exhaust. Hit us here if you're interested in the conversion.
Tip Options:
All tip options include the AWE Tuning logo, and double walling to ensure a mirror finish even under hard usage. All tips are individually adjustable, allowing depth into the bumper to be set according to personal taste.
102mm slash-cut Diamond Black tips

102mm slash-cut Chrome Silver tips
What's in the Box:
Complete AWE Tuning Track Edition Exhaust, consisting of a resonated front section, mid pipe, rear assembly, all necessary hardware, and two 102mm slash-cut tips in chosen color.