AWE Tuning 4.2L Spyder SwitchPath Exhaust (2014+)
Go Back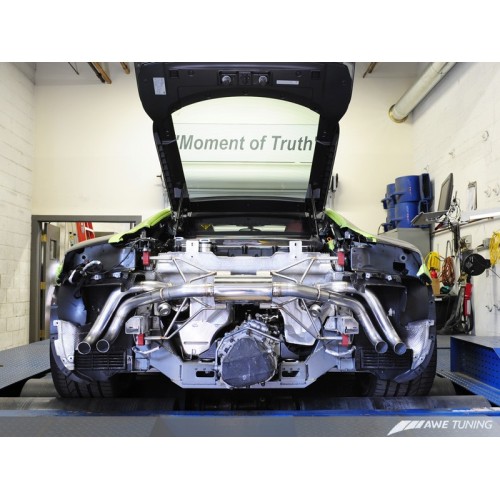 Product Information
The 2014+ Audi R8 4.2L Exhaust Suite sets a new standard. Two options: The sophisticated, versatile valved R8 4.2L SwitchPath™ Exhaust, and the disobedient, unbridled R8 4.2L Straight Pipes.
The SwitchPath™ Exhaust
Beyond the handcrafted detail that is standard for every AWE Tuning Performance Exhaust, this one packs a little something special: The R8 4.2L Exhaust incorporates a proprietary mechanical valve system that controls sound volume:
Under part throttle and idle, valves route exhaust gasses through a central muffler, keeping sound tame and drone free.

At 3/4 throttle application and more, the valves open and the system is unleashed – going into "straight pipe" mode.

An in-cabin mounted electronic SwitchPath™ Remote toggles the mechanical valves between "normal" and "straight pipe mode." Practical.
SwitchPath™ Exhaust highlights include:
Designed and manufactured in-house at AWE Tuning

Crafted from T304 stainless steel

Uses factory tips

No Check Engine Light - Guaranteed

German engineered control valves

CNC machined v-band connections

One piece, full bolt-on system means easy and reversible installation

Programming optimized for R8 engine characteristics

Lifetime Warranty