AWE Tuning Track Exhaust for B9 A4
Go Back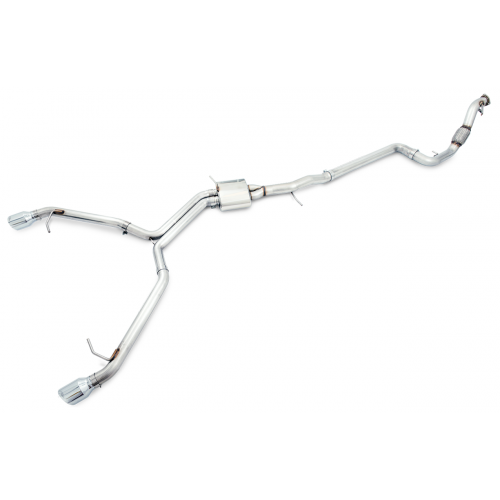 Product Information
Sound. Performance. Options.
Max gains of 10 hp and 10 ft-lbs

Available as valved SwitchPath™ (with remote), sophisticated Touring Edition, or the more unleashed Track Edition

All systems come complete with a 3" downpipe that features an internally-lined stainless steel flex section

102mm double-walled tips available in Chrome Silver or Diamond Black

Less is more: clean, straight-through design maximizes performance

Engineered, designed, and manufactured in-house at AWE Tuning

Handcrafted from CNC mandrel-bent U.S.-sourced T304 stainless steel

Direct bolt-on system for factory-like simplicity

No Check Engine Light - Guaranteed

Perfect Fitment - Guaranteed

Featuring the AWE Tuning Lifetime Exhaust Warranty
Track Edition Exhaust
The Track Edition Exhaust is for drivers who want to keep it cranked to 11 at all times. The Track Edition Exhaust takes the engineered design of the Touring Edition Exhaust, including the 3" Non-Resonated Downpipe, and replaces the rear AWE Tuning 180 Technology® resonators with Track Edition straight pipe sections, completely uncorking the B9 A4.

This version is known to get rowdy in the mid range, and may be too much for many. For that reason, this particular version cannot be returned due to sound preference. Prepare yourself.
What's in the box?
Complete Track Edition Exhaust, two 102mm tips in desired finish, and all required installation hardware.