AWE Tuning Performance Catalyst for B9 S4/S5
Go Back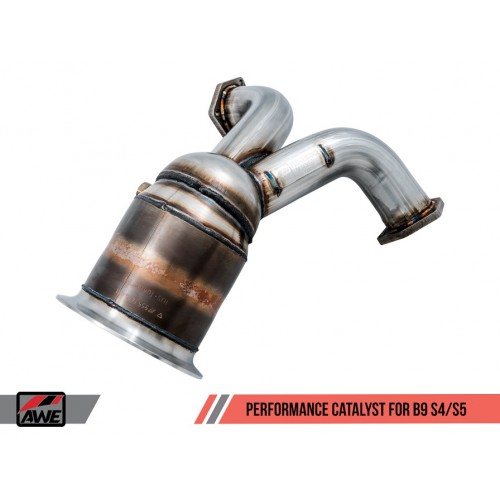 Product Information
A precision CNC-machined billet T304 stainless steel flange, massive 145mm 200CPSI EURO 6 HJS catalyst with tri-lobe core, and 2.5" T304L stainless steel make up the Performance Catalyst's construction for high-flow decongestion and an additional 12 hp and 15 ft-lbs of torque to the wheels.
Performance Catalyst-specific downpipes:
Given the increase of airflow with the Performance Catalyst, special resonators were developed to keep frequencies in check, and drone defeated. Though they are not required to run the Performance Catalyst, we strongly recommend and encourage the use of these specific downpipes when equipping the Performance Catalyst for a drone-free experience.
Proudly designed, engineered, and manufactured in-house at AWE

Max gains of 23 hp and 27 ft-lbs of torque at the crank

Features a 145mm, 200CPSI EURO6 HJS HD catalyst with tri-lobe core

Precision CNC-machined billet T304 stainless steel flange

Direct bolt-on for factory like simplicity

Specifically engineered resonated downpipes for use with the catalyst available separately

Handcrafted out of US-sourced .065 wall T304L stainless steel

Less is more: clean, straight-through design maximizes performance

Perfect fitment, guaranteed

Features the AWE No CEL Guarantee

Lifetime warranty (one year on catalyst core)