South Bend Stage 2 Clutch Kit
Go Back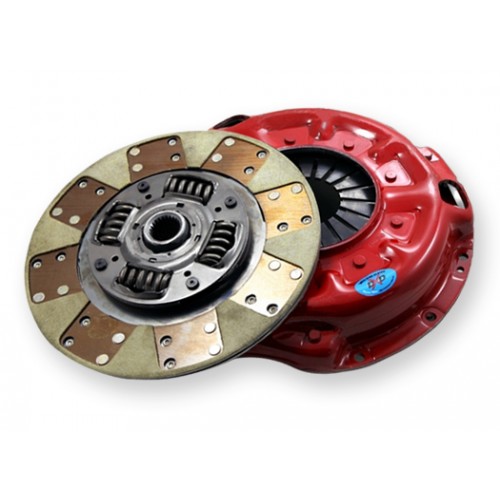 Product Information
For 5speed Transmission Only!
Stage 2 Daily Clutch Kits:
Engineered for HP modifications. This Heavy Duty Pressure Plate has an increased clamp load with little or no increase in pedal pressure. The Organic disc material has a high metal content that increases the co-efficient of friction by two times over a stock lining and increases rotational strength up to a 12,000 RPM burst point. This clutch system maintains a stock feel while offering strength and durability.
Recommended usage is daily, street and moderate race

Conservatively rated to hold 420lbs/ft of torque

Featuring a solid-hub center section for use with an OE dual-mass flywheel
Stage 2 Drag/Drift Clutch Kits:
This system features a Heavy Duty Pressure Plate modified for a puck style disc with no cushion between the linings to keep the clutch pedal travel short and quick. The puck design disc reduces rotational mass and total drive surface area while increasing pounds per square inch on the surface of the friction material. This combination minimizes inertia, accelerating the transfer of torque from the engine to the wheels. The friction material used for this race application is Graphite Impregnated Ceramic. This compound exceeded all other friction materials when testing for durability, reduced chatter, heat transfer and torque capacity.
Recommended uses are drag racing, drifting and limited street

Conservatively rated to hold 550lbs/ft of torque.

Featuring a sprung-hub center section for use with a single-mass flywheel

Featuring a solid-hub center section for use with an OE dual-mass flywheel
Stage 2 Endurance Clutch Kits:
An SFI approved single mass flywheel is recommended for this application to get optimal performance. This clutch system is designed for the racing climate. The pressure plate is precision balance for vibration free operation at high RPM. The pressure plate fulcrum is altered for a positive disengagement and a quick shift. The disc is engineered with a Dual Damped design to provide accurate control when accelerating through corners. The friction material is a hybrid using a full face Feramic (Sintered Iron) lining on the flywheel side and a high metal content Organic lining on the pressure plate side. Engagement is positive yet buffered due to the high graphite content unique to Feramic facings.
Recommended uses are daily and street with an emphasis on Rally and Endurance racing.

Conservatively rated to hold 495lbs/ft of torque.

Featuring a sprung-hub center section for use with a single-mass flywheel

Featuring a solid-hub center section for use with an OE dual-mass flywheel