Fabspeed Valvetronic Exhaust System (PSE)
Go Back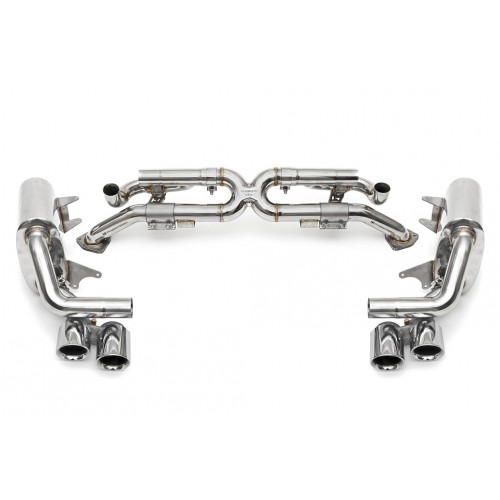 Product Information
Fabspeed's Valvetronic Exhaust System replaces the restrictive OEM side mufflers and center muffler for a deeper, throatier exhaust note along with improved power and throttle response. With valves open, unleash a bold roar from your 991.
INCLUDES:
FEATURES:
Fits all Porsche 991 Carrera and Carrera S vehicles 2012-2016

Massive power gains at low RPM,

Saves 13 lbs. versus the factory components

Dramatic improvement in sports car sound and power throughout the RPM range

Constructed from high-quality 14-16 gauge C.N.C. mandrel-bent T304L stainless steel for optimum flow and maximum durability

All included Fabspeed components are direct bolt-on replacements for the factory counterparts

Sport Headers feature C.N.C. mandrel-bent equal length primary pipes utilizing a 3-into-1 high velocity investment-cast pyramidal merge collector

Does not trigger a CEL and complies with most emissions regulations

Package includes Deluxe Quad-Style Tips, constructed from T304L stainless steel

All Fabspeed performance products are backed by the Fabspeed Lifetime Limited Warranty
POWER GAINS
3300 RPM
3900 RPM
6200 RPM
Peak
Fabspeed Exhaust

171.73

273.31

216.24

291.21

353.49

299.45

357.81
301.44
Factory Exhaust

154.56

245.98

192.76

259.58

332.14

281.36

346.96
286.93
TOTAL GAIN

+17.17 whp

+27.33 ft/lbs

+23.48 whp

+31.63 ft/lbs

+21.35 whp

+18.09 ft/lbs

+10.85 whp
+14.51 ft/lbs
DOES MY CAR HAVE "PSE"?
The Porsche Sport Exhaust – better known as PSE – was a factory option available on many late model Porsches. You can quickly and easily determine if your vehicle is equipped with PSE by taking a look at your center console. If your console has a button on it with an "exhaust tip" icon (see photo), then your vehicle is equipped with PSE, and you should select the PSE option when adding this product to your cart. If you do not see this button, the your vehicle does not have PSE and you should select the standard exhaust option when checking out.
Brand:
Fabspeed
Product Code:
FS.POR.991.VESPSEP.38