KW V1 Coilover Kit
Go Back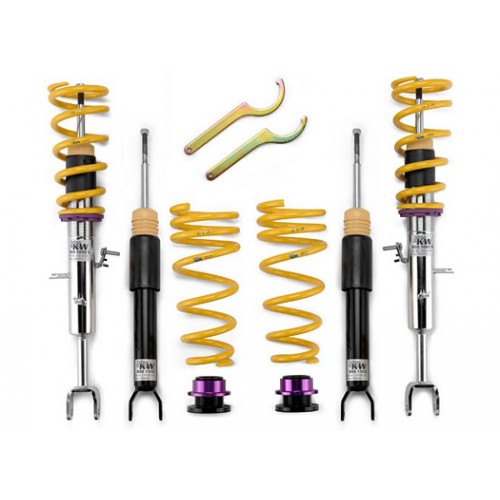 Product Information
Includes $100 in KMD Tuning Gift Card
What in the world are these coilovers that people seem to be talking about constantly? We've all seen race cars and show cars with them, but what are they really and how can they benefit you. In the simplest definition, coilovers replace the stock shocks, struts, and springs on a vehicle and enable ride height and weight distribution to be adjusted with minimal effort.
This KW V1 is the ideal system for customers wishing to rely on the experience of KW's engineers to set the damper setting, yet determine their own degree of lowering. In extensive driving tests, their engineers have set the dampers for the best balance between sporty driving, comfort and safety. The user is then free to decide the best height setting for their use and preference.
KW V1 kits offer:
Stainless Steel "Inox-Technology"

High quality component parts for durability

Sport harmonious dampening technology

Lowering range approved by the TüV

Fully finished complete solutions
Range of lowering is 1.0-2.0" in the front and rear.