RENNtech Carbon Fiber Deck Lid Spoiler
Go Back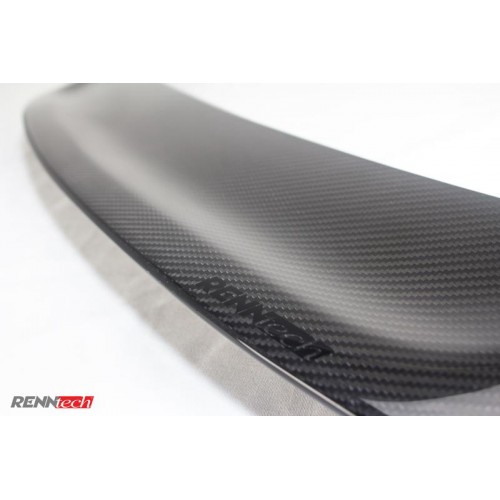 Product Information
Our full carbon fiber rear spoiler for the 218 CLS is the proverbial "cherry on top" and a stunning addition to the rear of the CLS exterior. Its unique design complements the refined trunk lines yet offers a more aggressive, stand-out look.
Our rear spoiler was designed, engineered and tested in-house as a fully functional aerodynamic exterior upgrade for the CLS. The rear spoiler offers a smooth transition of airflow over the trunk lid of the vehicle to ambient air and produces greater down force across the rear of the vehicle at speed. Its high quality prepreg carbon fiber construction is finished in a beautiful gloss top coat to ensure years of durability and stunning good looks.
This rear spoiler is a fully functional aerodynamic component as well as an aggressive exterior enhancement on the muscular CLS. The design is perfect as a stand alone component or in conjunction with our other component exterior aerodynamic upgrades such as our CLS rear diffuser and 3pc carbon fiber splitter. These pieces were designed to function in complete harmony with one another and when combined create a completely unique, aggressive, standout aerodynamic package.
Our rear spoiler fits all CLS models except Shooting Brake
What exactly is prepreg carbon fiber
Prepreg is widely known as the finest process in carbon fiber manufacturing and has been used for aerospace and military applications because of its superior consistency in weight, thickness, fitment, resin, carbon layout, and overall quality.

Lower cost carbon fiber uses a wet-layup method which results in components of inferior, strength, appearance and overall quality. To create prepreg fiber is pre-impregnated (hence the name) with resin at a production facility, rolled on spools, and frozen to prevent the resin from curing prematurely. This material is then cut and hand laid into a mold to the proper thickness and cured at strictly controlled temperatures. This process creates a laminate with a precisely controlled resin volume and in turn is 20-30% stiffer and stronger than an equivalent thickness wet laminate process.

The pre-impregnated (prepreg) fiber method creates stiffer, stronger laminates with controllable, predictable results and the result is a consistent, tight fiber weave which not only looks amazing, but adds strength. This ensures our customers receive components which not only look good on the vehicle standing still, but won't crack, warp, fall off or fade when mounted to the exterior of their vehicle after six months or while driving at high speed.
Brand:
RENNtech
Product Code:
88.218.20.72