RADO Street-Legal Downpipes
Go Back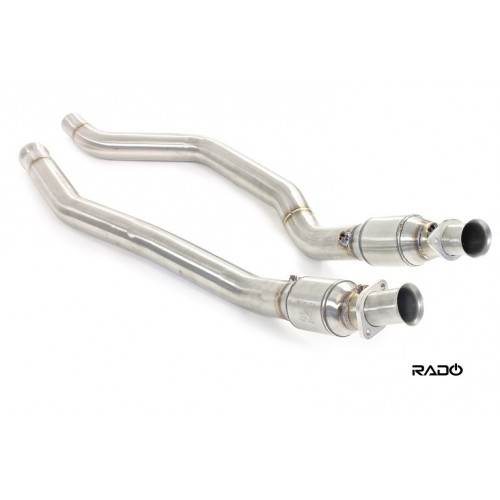 Product Information
RADO manufactures the best downpipes that you can purchase for your car. Our downpipes are made using high quality stainless steel. We use stainless steel piping, stainless steel flanges and all the brackets are made from the same high quality stainless steel as well. We also utilize the latest mandrel bending equipment. When looking at the competitions downpipes you will see that they are welding together bends to make a complete pipe and, in some instances, you will notice that they are clamping pieces of pipe together. RADO pipes are designed so that all the important bends are all done with one piece of pipe, not multiple pieces welded together.
The catalytic converters used in RADO street-legal downpipes are also made using stainless steel construction but the most expensive part of the catalytic converter is what's inside. All of our competitors use high-flow metallic cats but our catalytic converters have the highest precious metal content and that means that they will last the longest. Thanks to this we can offer a 3 year/36,000 mile warranty on our catalytic converters.
Not only do our pipes have a better appearance, they have better performance and a superior fit. The RADO downpipes can easily be installed using basic hand tools. They fit right the first time so you will never have to do any cutting or welding. We are the only company making these pipes to exceed the quality of the factory part. With the RADO downpipes you can actually reinstall the stock Mercedes cross-member (a part that the other manufacturers tell you to leave off). The factory cross-member is part of the structural integrity of the car. You can read on the Internet about the many new noises that are associated with removing this part.
Whether you are looking for better sound or more power, RADO has the street-legal part that will deliver what you are looking for at a price you can afford. With the street-legal downpipe you will never get a check engine light for an exhaust emissions fault.
Features:
Stainless Steel Construction

Advanced Mandrel Bending

High Flow Catalytic Converter

3 year/36,000 Mile Warranty on the Catalytic Converter

Easy 30 Minute Installation

Best fit in the industry

Fits with the factory cross-member

No Check Engine Light

Improved Sound
Brand:
RADO
Product Code:
RadoCATDPS-ML63