RENNtech Stage 1 Turbo Upgrade PKG M157
Go Back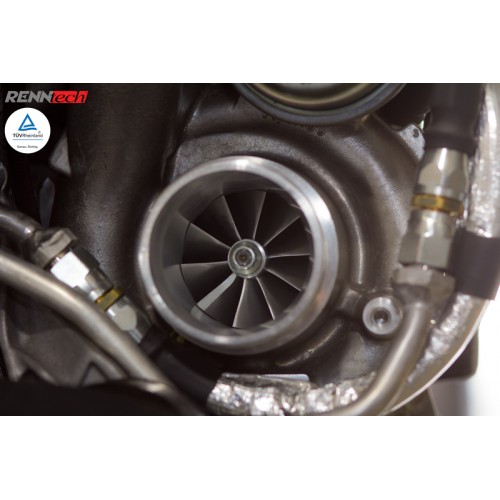 Product Information
Mercedes made the latest generation of 63 biturbo engines seriously fast right out of the box.Challenge accepted…….
We took the latest generation of M157 biturbo engines and spent months testing and developing our line of performance turbos.
We start with a set of motorsport derived ball bearing turbochargers from Garrett, one of the most respected turbo manufactures in the industry whose products offer rugged service life and OEM daily driver reliability. Using this platform as a foundation, we put in a lot of work to adapt these turbos to our specific application.
The lightweight forged billet wheels feature a dramatically larger than stock impeller (inlet side) and an increase in the turbine trim (exhaust side). This combination of high quality, light weight components coupled with less rolling resistance from the ball bearing cartridge compensates for turbo lag despite being a functionally larger turbo. The cartridge supporting shaft is also both larger and stronger designed to handle the larger wheels and added power. This entire cartridge is then fine balanced as a complete assembly to compensate for these increases. The impeller and turbine housings are then precision CNC machined and flow tested in-house to fit the larger internal cartridge. The end result is nothing short of spectacular with the RENNtech turbo package making up to an incredible 790 HP and 840 TQ at the crank!
More power isn't the only performance benefit as our turbos spool quicker, offer a more responsive throttle and immediate power delivery thanks to a reduction in exhaust back pressure, rolling resistance, higher RPM's and a lighter rotating mass. In addition, our turbo upgrade kit includes new high quality lines and fittings wrapped in heat resistant sleeves with every detailed piece manufactured and tested in-house to ensure years of 100% trouble-free and leak proof operation. These lines are made specifically to adapt to our turbos as this isn't just an OEM unit with machined internals; but a dramatically larger, more powerful turbocharger that blows away anything else on the market!
The RENNtech performance turbo upgrade is truly the ultimate upgrade for your 63 series M157 biturbo!
Key Features:
The RENNtech Stage I Turbo Upgrade comes with an ECU Tune and performance diverter valve

RENNtech Ball Bearing Garrett derived turbo chargers

Larger impeller (inlet) and turbine (exhaust) cartridge

Cartridge shaft is larger and stronger to support larger wheels

Entire cartridge is fine balanced as an assembly

Lightweight forged billet wheels

Less rolling resistance offers quicker spooling

Virtually no lag with impressive throttle response

Precision machined impeller and turbine housings

Leak proof, high quality lines and fittings with heat shielding

Up to 790 HP and 840 TQ @ crank
Please note this upgrade requires a core exchange for the OEM turbos
Performance:
Note: We have found the new M157 engine stock performance numbers vary from the baseline figures claimed by Mercedes Benz. We typically see slightly higher baseline numbers than claimed by the factory. Numbers will be dependend on conditions and fuel quality.

To reach the maximum power level, RENNtech exhaust system , Airt Intake System and intercooler upgrade are required
M157 Stock Performance (Without Performance Package):
518 HP @ 5500 RPM; 516 LB-FT @ 4800 RPM
Modified Performance (Without Performance Package):
790 HP @ 5500 RPM; 840 LB-FT @ 3800 RPM
Modified Performance (With Performance Package):
790 HP @ 5500 RPM; 840 LB-FT @ 3800 RPM
Instructions Turbo Upgrade:
Instructions Diverter Valve:
Brand:
RENNtech
Product Code:
09.157.1010