AWE Tuning Performance Straight Pipe Kit
Go Back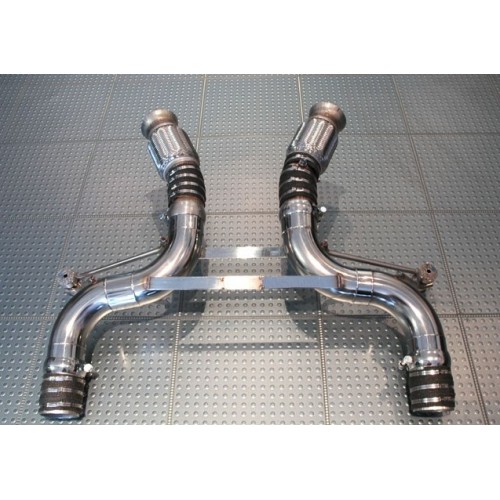 Product Information
Another masterpiece from the craftsmen at AWE Tuning.
Product highlights:
+22 ftlbs crank torque gain at 3200rpms, +12 hp crank gain at 6700rpms

50 lbs weight savings

100% stainless steel tubing and flex joints

Lifetime Warranty
This modular system is a direct replacement for the factory exhaust system, resulting in a very aggressive sound and significant power gains. Installation of the straight pipes means 50 lbs of weight savings over stock.
Considerable time was taken ensure that this system has a factory fit and finish level. The factory design uses a hemispherical gasket shape where the muffler inlet tubes mate to the over-axle pipes. Through careful digitizing of this gasket's profile, we were able to duplicate the tubing shape that it is clamped against, ensuring a leak-free seal. We also use a stainless steel lined braided flex joint on each inlet tube, just like the factory. A lined flex joint allows for proper heat expansion/contraction of the system while permitting an uninterrupted smooth bore for ultimate gas flow. Special high temperature tubing wrap is used on the inlet tubes and tailpipes, just like factory, to ensure proper heat shielding to carbon fiber structural and trim pieces. We also increased tubing diameter from 2.75" to 3.00". All adjustments for fitment are retained, just like factory.
Like all our exhaust products, fitment, performance, sound tone and volume are all carefully documented, verified, and field tested by our engineers and designers.
As with all AWE Tuning exhaust products, each TIG weld is hand finished internally, only butt-welded junctions are used, and flange openings are size matched to their ports, all to produce the smoothest flow possible. It is this intensive attention to detail that sets AWE Tuning exhaust products heads and shoulders above the rest.
AWE Tuning Straight Pipe Kits are hand built works of art and are what your Porsche deserves.
Please note that due to the elimination of catalytic converters, this system is legal only for racing vehicles which may never be used upon a highway.