Shark Werks Bypass Exhaust for 997.2
Go Back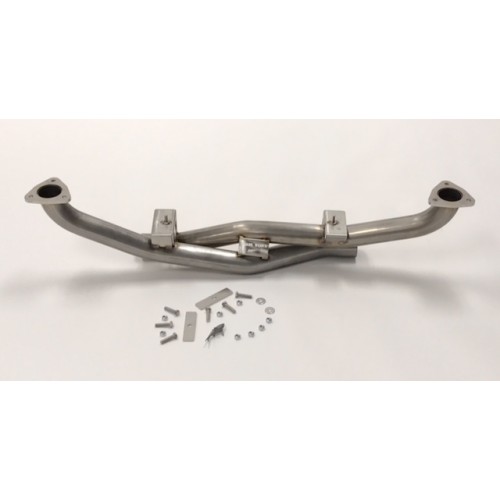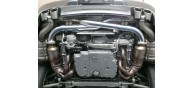 Product Information
The new SharkWerks 997S muffler bypass system has been methodically designed, tested and proven on our own 2009 997S PDK car during the first few months of ownership. Whilst we were excited to own and drive the new generation of 997 one of the areas we felt needed more attention was the exhaust note. In stock form the sound was extremely quiet inside and out. The goal with our center exhaust replacement was to achieve a PSE-like sporty Porsche sound that we all know and love and yet retain factory fitment and be 50-state emissions legal.

** This system will only fit 2009 / 2010 / 2011 / 2012 and newer Carrera / Carrera S models. It is also compatible with the PSE (Porsche Sport Exhaust) equipped cars and continues to work with the sport button.

Designed in-house and manufactured in Northern California the muffler bypass utilizes high-grade 18 gauge T304 tungsten inert gas welded stainless steel. The center replacement improves upon the factory unit by eliminating the sharp and tight left/right u-bends in favor of a straighter flow for a real world 12HP and 14TQ gain (see dyno plot below). Retaining the side mufflers maintains an appropriate sound level for daily driving (especially in a PDK car which is subject to droning). There is no additional drone or resonance. Should you ever want an even more aggressive sound you can also combine our bypass with aftermarket mufflers designed for the factory center section (e.g. Cargraphic).
Features
- Improved, more aggressive sporty sound (see video below)
- Simple installation with no bumper removal required
- Does not interfere with SMOG emissions and 50 state legal
- 9 pound weight saving on the rear
- Direct bolt-on replacing factory center muffler
- Includes installation hardware and instructions
- Compatible with either the stock or aftermarket tips
- Fits the 2009 and on Model 997 cars ONLY.
- 18 gauge T304 tungsten inert gas welded stainless steel
- Designed in-house and manufactured in Northern California
* Fits:
2009 Carrera / Carrera S / Carrera 4S / Carrera 4
2010 Carrera / Carrera S / Carrera 4S / Carrera 4
2011 Carrera / Carrera S / Carrera 4S / Carrera 4 / GTS
2012 Carrera / Carrera S / Carrera 4S / Carrera 4 / GTS
* Compatible with PDK and 6 speed transmission
* Compatible with Porsche Sport Exhaust (PSE)
Stock Exhaust Cut-away: Showing Restrictive U-bends: