AWE Tuning Performance Exhaust for 987
Go Back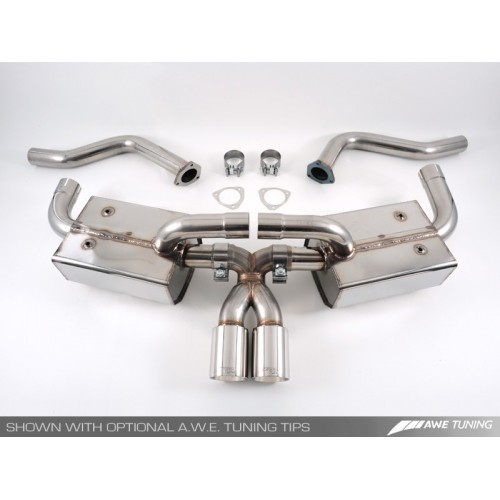 Product Information
The short and sweet of it is that this muffler, like all our mufflers, went through a rigorous development period where we ironed out some odd sounds that this engine can make when uncorked.
Our secret is a straight through design passing inside chambered areas and branching into a balance pipe. This design really smoothed out the random pops, burbles, and raspiness and produces a very sweet and full-bodied voice.
We were also careful not to compromise power output gain with this fine tuning, and despite the extra sound control, maximum power gains obtained were +11hp and +8ftlbs of torque corrected to the crank. This is power you can really feel, and countless Cayman owners report undeniable acceleration improvements after installing our muffler. We are really pleased with the results all the way around.
Fitment is bolt on, construction is 14 and 16 gauge T304 and T321 stainless steel throughout, all tubes are one piece mandrel bent, and the OEM tips can be reused, or you can opt for our dual 3.15" polished or Diamond Black stainless beveled wall tips.
As with all AWE Tuning exhaust products, each TIG weld is hand finished internally, only butt-welded junctions are used, and flange openings are size matched to their ports, all to produce the smoothest flow possible. It is this intensive attention to detail that sets AWE Tuning exhaust products heads and shoulders above the rest.
Our exhaust systems are handbuilt works of art, are award winning, and are what your Porsche deserves.