AWE Tuning Touring Edition Exhaust for 970
Go Back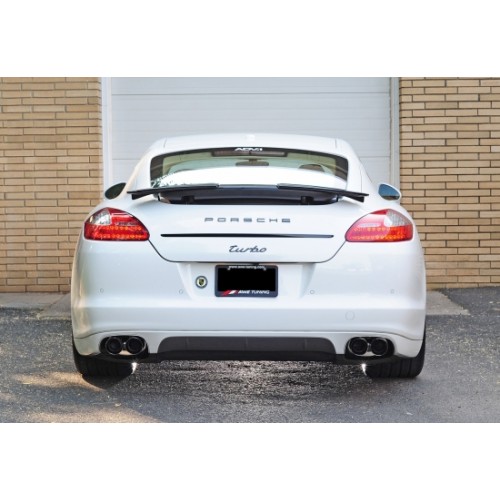 Product Information
AWE Tuning's Porsche Panamera Turbo Exhaust Systems give this stock 500 hp vehicle the added power and aggression it's
capable of, without sacrificing its natural sophistication. Our Fabrication and Engineering Departments put countless R&D hours into creating an exhaust with impressive power gains and an intoxicating tone.
This hand-crafted system is available with Chrome Silver, and has a 100% T304 Stainless Steel construction. The AWE Tuning Panamera Turbo Exhaust System will be available in two configurations: Track and Touring Editions, to suit all tastes.
The AWE Tuning Panamera Turbo Touring Edition Exhaust
As the more behaved of the Panamera exhaust siblings, the AWE Tuning Panamera Turbo Touring Edition never loses composure. Featuring AWE Tuning 180 Technology™, an X Pipe, and the employment of the factory mid-muffler, this exhaust configuration will turn heads without compromising the stately demeanor of the car. Just with more attitude.
Touring Edition Highlights
Featuring AWE Tuning 180 Technology™

Max gains: +12 hp and +12 ft lb at the crank

Peak gains: +8 hp and +6 ft lb at the crank

Engineered, developed, tested and manufactured in-house

Crafted from T304 stainless steel

No CEL. Guaranteed.

Lifetime Exhaust Warranty
Sound Perfection: AWE Tuning 180 Technology™
As exhaust gases exit the 4.8L Turbo engine and flow into an AWE Tuning 180 Technology™ equipped resonator, they pass through strategically located ports, and into reflection chambers. Sound waves, carried by these exhaust gasses, bounce off the walls of the reflection chambers. By controlling the size and location of the ports and the chambers, we also control when the sound waves exit the chambers. The specific timing of when the reflected sound waves re-join the main exhaust flow creates a one-hundred-and-eighty-degree out-of-phase sound wave that cancels out problematic frequencies. More on AWE Tuning 180 Technology™ in the tab above.
Finishing it off
The Panamera Turbo Track and Touring Edition Exhaust Systems are finished with our signature 3.5" slash cut exhaust tips, available in Chrome Silver. The tips sport precision stamped AWE Tuning logos and are double walled to ensure a mirror polish even under hard usage. The system has multiple slip joints with high quality stainless steel Accu-Seal clamps, to allow optimal adjustment.