AWE Tuning Touring Edition Exhaust (14+)
Go Back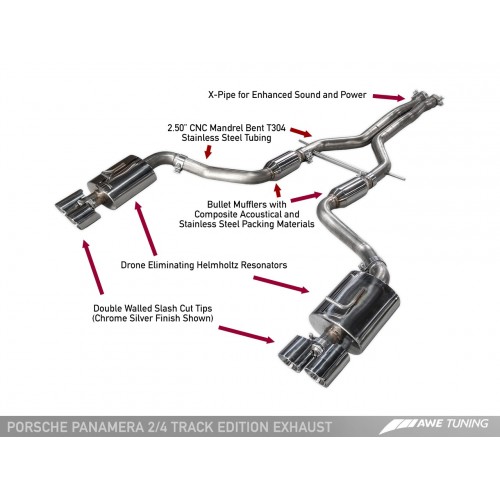 Product Information
Presenting the perfect exhaust suite for the V6 Panamera. Two options, Touring Edition and Track Edition, ensure that there's a variation for all.
Highlights:
Featuring AWE Tuning 180 Technology™

Engineered, developed, tested, and hand built in-house at AWE Tuning

2.5" mandrel bent 304 stainless steel tubing throughout

Dyno proven max gains of 11HP and 19TQ on the Track Edition, 10HP and 7TQ on Touring Edition

Track Edition features an X-pipe for enhanced exhaust scavenging and improved tone

Both Touring and Track Editions do not affect or alter any emissions devices, completely street legal

27lbs weight savings with Touring Edition, 23lbs with Track Edition

No Check Engine Light -- Guaranteed

Lifetime Exhaust Warranty
Sound Perfection: AWE Tuning 180 Technology™
As exhaust gases exit the 3.6L engine and flow into an AWE Tuning 180 Technology™ equipped resonator, they pass through strategically located ports, and into reflection chambers. Sound waves, carried by these exhaust gasses, bounce off the walls of the reflection chambers. By controlling the size and location of the ports and the chambers, we also control when the sound waves exit the chambers. The specific timing of when the reflected sound waves re-join the main exhaust flow creates a one-hundred-and-eighty-degree out-of-phase sound wave that cancels out problematic frequencies. More on AWE Tuning 180 Technology™ in the tab above.
Details:
The more civilized member of the family is the AWE Tuning Panamera Touring Edition Exhaust. If you occasionally have a client in the car, or are concerned about waking the neighbors, consider the Touring Edition: This system brings out the power and tone of the V6 in an extremely sophisticated manner. This system is an "axle back" system that retains the factory mid-muffler, while offering a significant weight savings of 27 lbs. over the factory system.