Remus SS Axle Back Exhaust for 970
Go Back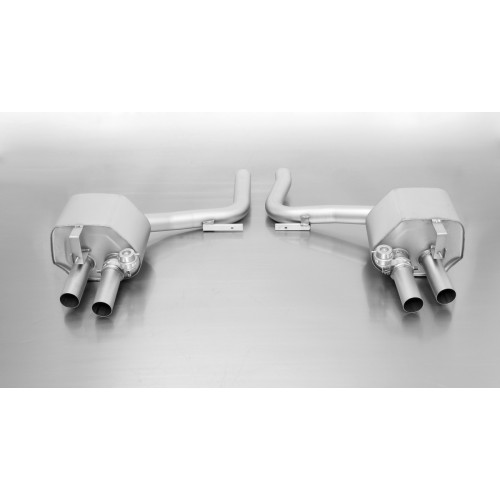 Product Information
Ranked number one in the world, Austrian manufacturer REMUS is ahead of the game with their top of the line exhaust systems. At REMUS, an exhaust is not simply built and put on the market. Each setup is rigorously tested not just for optimum performance, but for the highest quality sound attainable. If they are not perfect, the system is re-engineered and tested until the perfect balance between performance and sound is achieved. Every REMUS exhaust system is crafted from only the finest Titanium and steel, giving it the durability necessary to stand up to the rigors of various driving styles.

Full 304 Stainless Steel Sport Exhaust left/right, incl. integrated valve control system. weighs 80 Lbs.

All REMUS systems are vehicle specific and easy to install as durable bolt-on systems.

Features:
Full 304 Stainless Steel Construction.

Completely shot peened / blasted for ultimate surface tension / strength.

Front Silencer.

Integrated Valve Control System.

80% reduced back pressure.

Installed using factory mounting points.

Fully E.C. Approved / Homologated.

Warranted 3 Years Unlimited Mileage.
Brand:
Remus
Product Code:
689409 0500LR