CTS Turbo Catch Can Kit for 2.0TSI
Go Back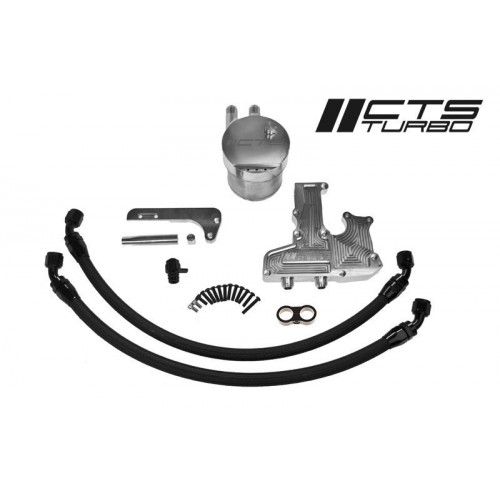 Product Information
CTS Turbo is proud to offer the premier catch can solution for the MK6 GTI, MK6 Jetta, Audi A3, Audi TT with 2.0 TSI engines.
The oil catch can is used prevent oil vapors entering the intake manifold and clogging up the intake valves on direct-injection motors. Oil deposits on intake manifold and valves cause reduced performance, bad fuel mileage, and could damage the fragile intake "flaps" and motor.

Kit Includes:
CTS Turbo billet aluminum valve cover breather – CNC machined for beautiful finish

CTS Turbo Billet aluminum catch can with billet oil-level dipstick

-10 AN Black-Series braided hoses

Oil catch can mounting bracket

Modular intake manifold plug

Hose-Wrangler clamp
The mounting solution is available for left-hand side of engine bay for North American cars or right-hand side of engine bay for vehicles with charcoal canister.
NOTE: if you have aftermarket engine mounts, please choose driver's side (left side) mount.
Driver's (left) side mounting is only compatible with CTS Turbo or Carbonio intake systems.
Not compatible with Noise Pipe - please select the noise pipe delete kit from drop-down menu if your car comes with noise pipe.
All installation hardware is included, as well as o-ring for rear PCV. Complete bolt-on installation.
Keep your MK6 TSI running smooth, clean and enjoy the peace of mind that comes with knowing that the PCV system on your car is now free of issues.
Click Here For Install Instructions