034 Motorsport Dogbone Mount Bushing Pair
Go Back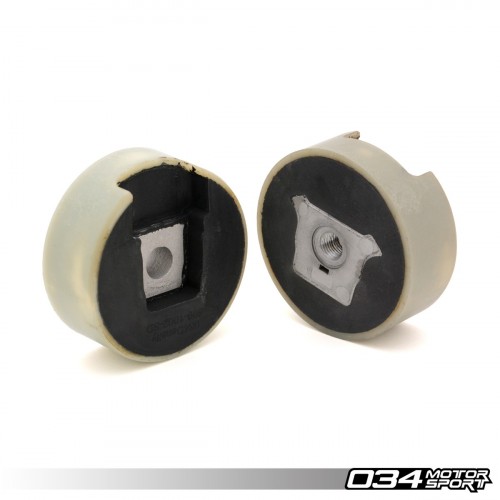 Product Information
We're proud to announce the availability of the Density Line Dogbone Mount Pair for MkV & MkVI Chassis Volkswagen and 8P & 8J Chassis Audi models!
034Motorsport's Density Line Mounts are the new standard in performance. Our mounts are redesigned with performance in mind, and manufactured from high-durometer rubber for increased performance and durability. Density Line Mounts are void-free and fluid-free, eliminating the slop associated with the factory mount.
The Density Line Dogbone Mount Pair is manufactured from 60 durometer rubber, which is approximately 35% stiffer than stock. Since the mounts are also void-free and solid-filled, the resulting mount is approximately 85% stiffer than stock.
The result is greatly reduced drivetrain slop, crisper shifting, and minimal wheel hop, with a minimal increase in noise, vibration, or harshness (NVH) inside of the cabin. (Please Note: NVH changes may be more drastic in vehicles equipped with DSG or Tiptronic transmissions, and/or if your factory engine/transmission mounts are worn or failed.) These mounts are a completely re-engineered performance solution, not just inserts for use with the factory mount.
Features:
Manufactured from 60 Durometer Rubber with Void-Free Construction

Reduced Drivetrain Slop

Decreased Engine Movement Under Load

More Direct Power Transfer

Improved Shifting Feel

Complete Drop-In Replacement of Factory Mounts

Sold in Pairs
Fitment:
2006 - 2013 Audi A3 (8P)

2006 - 2013 Audi TT / TTS / TTRS (8J)

2005 - 2009 Volkswagen Eos / GLI / GTI / Jetta / R32 / Rabbit (MkV)

2010 - 2013 Volkswagen Eos / GLI / Golf / GTI / Jetta / R (MkVI)
Installation Instructions: