StopTech Front 328x28 STR-40 Trophy Big Brake Kit
Go Back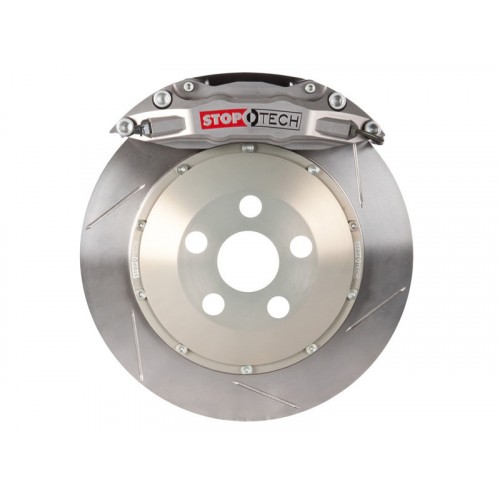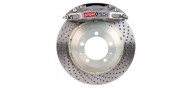 Product Information
StopTech Big Brake Kits improve aesthetics and exceed stock brake performance in three areas. First, larger rotors increase heat capacity. Second, improved brake cooling dissipates absorbed heat. Third, stiffer calipers and stainless steel lines reduce system compliance.
The key, however, is to increase heat capacity and reduce compliance without upsetting the stock front to rear brake torque ratio, also referred to as brake bias. Regardless of rotor diameter, brake pedal ratio, brake pad material, or number of pistons in your calipers, your maximum deceleration is limited every time by the tire to road interface. If the brake upgrade you select adds too much front brake torque (as many do), it will drastically shift the brake bias too far forward and reduce your car's ability to utilize the maximum traction of the tires at all four corners (even on ABS equipped cars), increasing stopping distances dramatically. In addition, too many pistons or pistons that are too large will make the brake pedal much more difficult to modulate, which limits a driver's control of brake input.
Advantages of StopTech Big Brake Kits over other brake upgrades:
StopTech Balanced Brake Upgrades™ with optimum brake bias offer the shortest stopping distance with the best pedal feel
StopTech offers the stiffest calipers available, their patented bridge results in better clamping under hard braking and less pad taper
StopTech's patented AeroRotors® offer the best airflow available, resulting in better cooling, less fade and longer rotor and pad life
StopTech Stainless Steel Brake Lines are resistant to expansion which offers better brake modulation and a firmer pedal
StopTech Brake pads are intended for high performance street driving as well as light duty track use.
StopTech STR-40 Trophy Sport 4 Piston Calipers
StopTech's STR-40 Trophy calipers are manufactured from fully forged aluminum for optimal strength and light weight. StopTechs patented, removable center bridge further resists yaw (flex) and allows pads to be changed without caliper removal. The StopTech Trophy forged caliper is the stiffest aftermarket caliper available, stiff calipers offer better performance with no vibration or noise, improved pedal feel and no radial pad taper. Forging also produces a beautifully finished, nonporous caliper, calipers that are cast can have major issues with porosity which can even cause calipers to leak. StopTech does all finish machining (such as piston bores sized correctly for the application), assembly, and test in California. The calipers are then anodized to resist discoloration under high heat. Dust boots are standard on StopTech Trophy Sport calipers to keep the pistons clear of contamination and extend the service life of the calipers.
Advantages of StopTech's STR-40 Trophy 4 Piston Caliper:
Pistons sized to match brake kit to vehicle application
100% leak down and pressure tested to 2,500 PSI
Differential piston sizes minimize pad taper
Uses standard FMSI D1247 brake pad
Uses Silicone dust boots
Made of forged aluminum alloy
Weight: 8.8lb (4 kg) unloaded
Improved brake pedal feel and feedback
StopTech's Patented AeroRotors
StopTech AeroRotors® are cast with a proprietary high durability cast iron formula. To test rotor durability, StopTech rented the California Speedway and ran a heavily weighted down car with StopTech rotors on one side and a competitor's rotors on the other. In this test, StopTech rotors were approximately twice as durable as the competitor's rotors. StopTech has had several sets of rotors run entire 24 hour races on winning cars.
The ability to absorb and dissipate heat is essential to brake system performance. The patented StopTech AeroRotor® features uniquely designed curved vanes with innovations on leading and trailing edges to optimize airflow through the rotor. This improved directional design minimizes turbulence and flows more air than any rotor tested. The result is up to 80% better airflow over original equipment rotors and 10-30% better airflow than directional vaned racing rotors currently available.
The chart below shows that StopTech (top red line) has the highest induced airflow of any rotor tested. Leading aftermarket and original equipment rotors were tested for airflow from 30mph to 150mph. StopTech AeroRotors dramatically outperformed all other rotors, with improvements from an impressive 11% to a staggering 80% increase in airflow.
Advantages of StopTech AeroRotors:
Enhanced durability for decreased lifetime costs

Superior airflow for increased heat dissapation

Consistent and predictable performance

Extended rotor life

Increased pad life

Less fade
---
StopTech AeroHats and Caliper Brackets
The patent pending StopTech AeroHat™ has directional stand offs between the rotor and mounting bell (hat) that increase airflow to the outside faces of the rotor by 50-100% and improve entire brake system airflow by up to 4%. Outer rotor faces typically retain more heat than inner rotor faces which wears the outer pads faster. StopTech AeroHats™ increase airflow to reduce the temperature difference between the inside and outside faces of the rotor resulting in less distortion, even wear and improved heat dissapation compared to other fully floating designs.
StopTech AeroHats and caliper brackets are machined from AeroSpace billet aluminum on the latest active tooling CNC machines at StopTech's California manufacturing facility.
---
StopTech Stainless Steel Brake Lines
StopTech makes their own stainless steel brake lines in California from the highest quality parts available. StopTech brake lines consist of a Teflon® inner line that is covered with a layer of stainless steel woven braid. The Teflon® tube is very resistant to expansion under pressure and will not degrade from exposure to brake fluid. The stainless steel braid provides support for the Teflon and the weave is extremely durable against incidental impact and abrasion. Lines feature a clear abrasion-resistant cover for maximum protection against chaffing and particle intrusion. Every fully assembled StopTech Stainless Steel Brake Line is tested to a pressure of 4,500 PSI. StopTech is a DOT (U.S. Department of Transportation) registered supplier of brake lines.
Advantages of StopTech Stainless Steel Brake Lines:
StopTech Stainless Steel Brake Lines comply with TUV and FMVSS 106 safety standards

StopTech is a registered brake line manufacturer with the United States DOT

Shorter stopping distance through shortened reaction time

Strain relief devices to reinforce end fittings

Improved pedal feel and modulation

Tested to 4,500 PSI
---
StopTech Street Performance Brake Pads
StopTech ST-40 Big Brake Kits include StopTech Street Performance brake pads which are suitable for both street and light track use. StopTech Street Performance Brake Pads feature low dust, high initial response for cold stops, quiet operation, even pad wear and consistent pedal feel and performance. For more aggressive track use or race use, it is very important to select pads appropriate to the type of driving.
Advantages of StopTech Brake Pads:
Wide operating temperature range improves stopping power hot or cold

Consistent and predictable performance

Excellent pad life

Longer rotor life

Reduced dust

Low noise
---
Note:
Slotted rotors are preferred over drilled due to their larger pad contact area and their resistance to cracking, crossdrilled rotors are available at extra cost for light duty or show usage.
Zinc coated rotors are available for an additional cost. Zinc coating helps reduce surface rust on unswept portions of the rotor.
Yellow, blue and gold painted calipers are available for an additional cost and typically add 1-3 weeks to order delivery times.
Brand:
StopTech
Product Code:
83.893.4300.R