Wagner Tuning Performance Package EVO2 for N55 Catted
Go Back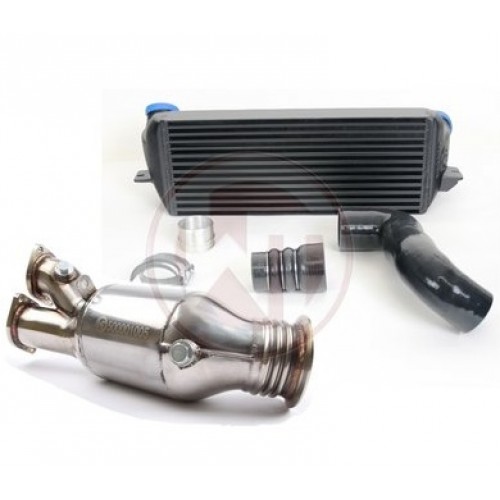 Product Information
The performance package for the BMW E-series consists of the intercooler upgrade kit EVO2 and the N55 downpipe kit with catalyst and fits the following vehicles:

BMW 135i E82/E88* BMW 335(x)i E90/E91/E92/E93* * Note:-So that our EVO II version fits in all specified vehicles, a little adaptation work is needed.

Intercooler Upgrade Kit 200001017

This Performance intercooler has the following core size (520mm x 210mm x 150mm / stepped = 13,572 cm? ), providing a 85% larger frontal area and 90% more volume compared to the original intercooler. Our engineers have increased the intercooler core size and efficiency, as well as improved the end tank design to remove any OEM bottlenecks, resulting in increased flow rating and charge cooling properties. High-performance Intercooler core with turbulators in a stepped design (weight: 10kg). Constructed of the highest quality Bar and Plate intercooler cores combined with cast aluminum optimized by CAD. Flow analyses and simulations were created to optimize the design for best possible Internal Airflow.

This intercooler is the best choice when it comes to performance gains and low intake temperatures. A lot less pressure drop then OEM Intercooler. Anti Corrosion protective Coating with perfect thermal heat dissipating character. Optimal cooling with clearly more power. Kit is ready for installation, 100% perfect fit. Fitment is easy, replacing the OEM intercooler. All of our products undergo rigorous quality control.

Kit comes with:
Intercooler Black Inlet Silicone Hose
HD Outlet Silicone Hose
Aluminum Adapter IC Intake
1 Set 12mm Stainless Steel Norma Clamps

The N55 downpipe kit 500001005

The N55 downpipe kit 500001005 with 200 CPI racing catalyst made with high quality stainless steel 1.4301 (SS304) 100% perfect fit, replace OEM less thermal load on the turbocharger more power by reducing back pressure significantly more torque.

This item may not meet state requirements.
Limited 2 year warranty to original purchaser.
All Items subject to a restocking fee. Customer responsible for shipping cost to and from destination!

THIS ITEM CAN ONLY BE USED IN A COMPETITION RACING VEHICLE THAT IS NOT DRIVEN ON PUBLIC ROADS, UNDER CALIFORNIA STATE LAW IT IS NOT LEGAL FOR USE IN ANY OTHER MOTOR VEHICLE