034 X34 Carbon Fiber Cold Air Intake B9 RS5
Go Back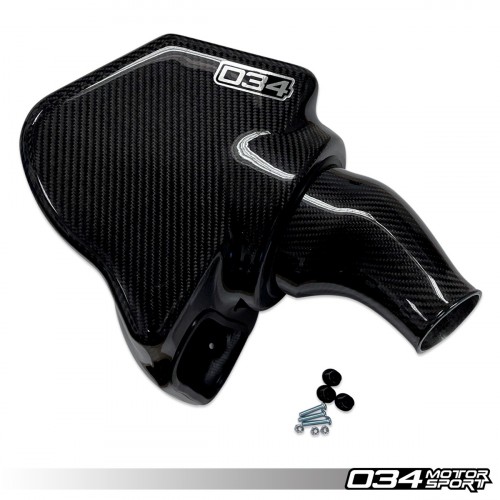 Product Information
034Motorsport's X34 Cold Air Intake System delivers improved power, sound, and acceleration to B9 Audi RS5 owners in a clean OEM+ package.

Through extensive evaluation of the factory airbox design, 034Motorsport's engineers were able to create a performance replacement that allows for increased airflow to the turbocharger and engine. The X34 Air Intake System offers measurable performance improvements, simple bolt-on installation, and unsurpassed fit and finish.

NOTE: X34 Carbon Fiber Intake Air Duct sold separately.
034Motorsport focuses on optimizing every aspect of the intake system across a broad range of variables and compromises. A critical component of a high-flowing performance intake is the ability for air to flow around and into the filter. If the air cannot flow freely around the filter, it will be restricted from getting into it. Many aftermarket kits fit too large of a filter in an enclosure that cannot accommodate its size, thus choking the filter and reducing its overall flow. This often happens when a product is engineered for one variable at the expense of others. 034Motorsport conducted extensive tests and refined its development of the intake design to allow for maximum airflow surrounding the air filter, allowing for optimal airflow to, and through, the filter. The final result is the right size filter in the right size filter housing, creating maximum airflow and performance with OEM level filtering; the ultimate goal of any intake system. Be cautious of any intake that brags only of air filter size without taking into account the detrimental effects of shrouding the filter.
PRODUCT DESCRIPTION:
Significant effort went into developing this comprehensive performance intake solution for the twin-turbocharged 2.9 TFSI engine found in the latest generation B9 Audi RS5. Subsequently, the X34 Cold Air Intake System offers discerning enthusiasts measurable increases in horsepower and torque, sporty induction and turbocharger sounds, and a beautiful carbon fiber airbox and inlet pipe design.

Throughout the development process, multiple designs were modeled, prototyped, and tested - all to ensure that the X34 Cold Air Intake System delivers measurable performance benefits and superb fitment. The result is a partially-enclosed airbox which uses the factory fresh air inlet duct and heat shield, while housing a massive 5" inlet conical air filter, and a matching CFD-optimized carbon fiber filter tube.
X34 CARBON FIBER COLD AIR INTAKE SYSTEM FEATURES:
Developed In-House by 034Motorsport's Engineering Team

Fits Both Left and Right Hand Drive Configurations

High-Quality Carbon Fiber Airbox and Filter Tube Construction

High-Gloss Epoxy Finish

OEM+ Fit and Finish

High Strength Metal Inner Ring at Clamp Points

Dyno-Proven Horsepower Torque Gains

Improved Airflow from Factory Airbox and Intake Tube

Enhanced Engine Induction Sounds

Improved Throttle Response

Massive 5" Inlet Conical Pleated Cotton Air Filter

Large-Diameter CFD-Optimized Carbon Fiber Filter Tube

Reduced Intake Air Temperature

Securely Installs Using Factory Mounting Grommets

Simple, Straightforward Installation Instructions
WHAT'S INCLUDED:
034Motorsport Carbon Fiber Airbox

034Motorsport Carbon Fiber Inlet Pipe

034Motorsport High Performance 5" Inlet Air Filter

034Motorsport Silicone Hose
APPLICATION GUIDE:
2018 - Present Audi RS5 (B9) 2.9 TFSI