034Motorsport Strut Tower Reinforcement Plates
Go Back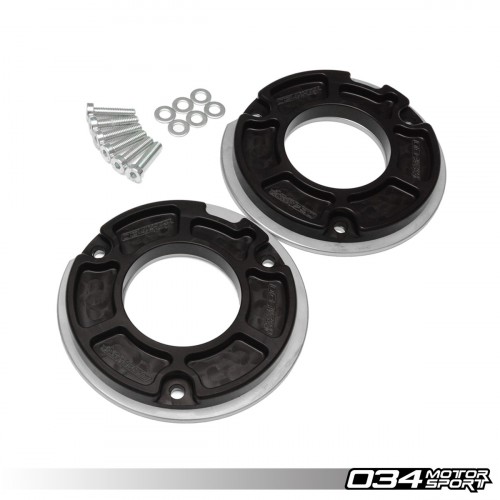 Product Information
034Motorsport's Strut Tower Reinforcement Plates for the 8J Audi TT/TTS/TTRS are designed to significantly increase the strength and rigidity of the factory aluminum strut towers. These robust steel and aluminum reinforcement plates reduce the likelihood of deforming/damaging (or doming) the strut towers by driving over road imperfections or aggressively utilizing curbs when driving hard on track.
What's Included:
3/16" Thick Laser-Cut Stainless Steel Lower Reinforcement Plates (2)

CNC Machined Billet Aluminum Upper Reinforcement Plates (2)

New Installation Hardware
2006 - 2013 Audi TT/TTS/TTRS (8J)
Installation Guide:
Fear the curbs no more. Drive with more confidence knowing you have increased strength and rigidity in your strut towers!
Please Note: If your strut towers are already deformed/domed, then these plates cannot be safely installed. If this is the case, we recommend taking your vehicle to a body shop that is certified by Audi for aluminum repairs. Once the strut towers have been repaired, the reinforcement plates can be used