034 Motorsport X-Brace Chassis Reinforcement
Go Back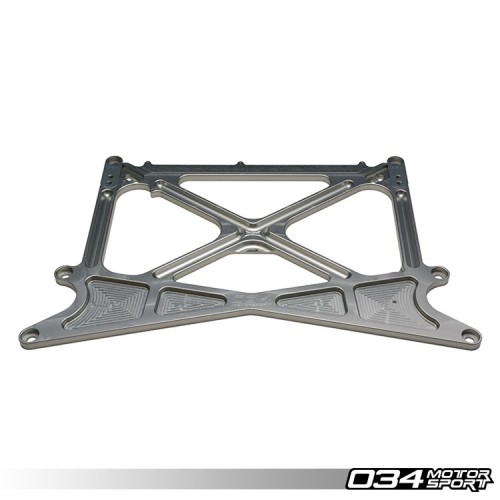 Product Information
034Motorsport is proud to offer our Billet Aluminum X-Brace Chassis Reinforcement Upgrade for the B8 & B8.5 Audi A4/S4/RS4, A5/S5/RS5, and Q5/SQ5! The factory Audi front subframe brace is manufactured from multiple pieces of stamped steel, and allows for performance-hindering chassis flex under load. This torsional flex can result in improper suspension geometry and alignment when cornering, and leads to vague steering feel and lack of steering precision.
The 034Motorsport X-Brace is a billet aluminum chassis reinforcement to replace the factory front subframe brace to increase torsional rigidity, resulting in improved steering feel and handling performance. Machined in-house from T6-6061 billet aluminum, the 034Motorsport X-Brace is engineered to outperform the stock welded, stamped steel part and ensure that suspension geometry is not compromised by chassis flex under hard cornering.
This chassis brace upgrade was thoroughly tested by 034Motorsport and independent Audi enthusiasts before release. Installation is very simple, can be performed in minutes, and is completely reversible.
T6-6061 Billet Aluminum Construction

CNC-Machined In-House

Clear Anodized Finish for Durability

Engineered to Replace Factory Front Subframe Brace

Drastically Reduces Chassis Flex When Cornering

Enhances Handling Dynamics and Performance

Improves Steering Feel, Consistency, and Precision

Will Not Cause Additional NVH Transfer Inside Cabin

Modular Design Fits Both B8 (Pre-Facelift) & B8.5 (Facelift) Models

Easy, Straightforward Installation!
034Motorsport Billet Aluminum X-Brace Chassis Reinforcement (Fits B8/B8.5 Audi A4/S4/RS4, A5/S5/RS5, Q5/SQ5)

Modular X-Brace Inserts (Set of 2)

M10 X-Brace Assembly Screws (Set of 4)

M5 Undercarriage Tray Mounting Screws (Set of 4)

15mm Undercarriage Tray Mounting Washers (Set of 4)
Installation Instructions:
2009 - Present Audi A4 (B8/B8.5

2010 - Present Audi S4 (B8/B8.5

2013 - Present Audi RS4 (B8/B8.5)

2008 - Present Audi A5 (B8/B8.5)

2008 - Present Audi S5 (B8/B8.5)

2013 - Present Audi RS5 (B8/B8.5

2008 - Present Audi Q5/SQ5 (B8/B8.5
8T1 399 345J / 8T1399345J

8K1 399 345E / 8K1399345E
Fits LHD (Left-Hand-Drive) Vehicles Only. Does Not Fit RHD (Right-Hand-Drive) Vehicles.

Does Not Fit Cabriolet.

The X-Brace will fit the Audi RS5, however, due to a variation in the belly pan, it will block some mounting points for the plastic shield.

We recommend using new factory stretch bolts to install the X-Brace.