KMD Tuning Clutch Kit
Go Back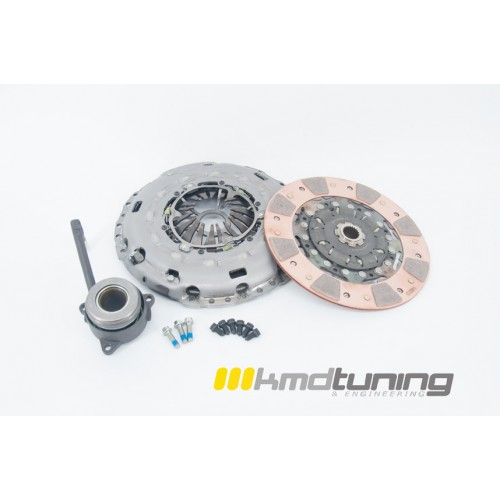 Product Information
KMD Tuning is proud to present a street or track clutch kit for the daily driver or weekend racer.
The KMD Tuning Clutch Kit features:
- Modified Audi TT-RS Pressure Plate with custom made ceramic-metallic disc for a full contact surface.
- Unlike some clutch kits on the market that use a wider face disc which will cause an overhang, the KMD Tuning Clutch Kit is designed to work with the full diameter of the Audi TT-RS pressure plate.
- The Track disc, in combination with the TTRS pressure plate, can hold up to 530TQ with a shorter life.
- The Daily disc offers the longest life with the factory driving experience and can hold 480TQ.
Track Disc (530TQ) Features:
- The eight ceramic-metallic trapezoidal-shaped buttons have a very low inertia.
- Ceramic-metallic button clutch is designed to operate at high working temperatures without fading.
- Button type ceramic-metallic plates use only about 50% of the flywheel and pressure plate surfaces during clutch engagement. This improves heat transfer by as much as 100%.
- Ceramic-metallic button-style clutch facings are very durable and have the unique ability to grab better as it heats.
- Button type pads do not warp during use.
- Button type pads prevent scoring of the friction faces, as they allow the dust worn from the friction surfaces to be thrown clear of the clutch areas.
- Ceramic-metallic materials are less sensitive to grease and oil contamination.
Daily Disc (480TQ) Features:
- Full face organic disc for longer life.
- The full face offers a stronger then factory material with a stock like feel.
- Using a full face disc elimantes any clutch chatter on engagement.
- This clutch system maintains a stock feel while offering strength and durability.
KMD Tuning Clutch Kit includes:
- Modified Audi TT-RS Pressure Plate
- Ceramic-Metallic Clutch Disc (for Track option)
- Full Face Organic Disc (for Daily option)
- Pressure Plate Bolts
- Metal OEM Slave Cylinder
- Slave Cylinder Bolts
Application Guide:
- MK5 FSI / TSI
- MK6 TSI
- Beetle TSI
- CC TSI
- MK6 Golf R TFSI
The KMD Tuning Clutch Kit is built to order and typically ships between 2 - 3 days.