RENNtech R3+ Performance Package M157
Go Back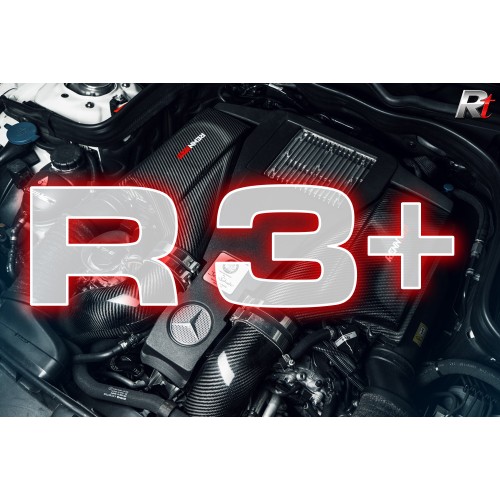 Product Information
The RENNtech R3+ Performance Package is the final evolution stage of the RENNtech R-Performance line for the M157 series and is intended as a track upgrade for the E 63 AMG Sedan. To reach the highest output level and guarantee longevity, especially in high performance applications such as continuous track days and road course testing, 100+ octane gasoline is mandatory.
Included in the R3+ Package are all upgrades from the R3 Pkg, ECU Upgrade, Diverter Valve, Air Filters, Carbon Fiber Air Box Kit, Stainless Steel Sport Mufflers and upgraded Turbocharger, as well as upgraded Stainless Steel Downpipes and an Intercooler Upgrade Kit.
With the upgraded Turbochargers included in the R3 Performance upgrade, RENNtech is able to add up to 277 HP and 351 LB-FT to the 5.5L V8 BiTurbo engine (compared to RENNtech rated stock performance). The addition of the upgraded diverter valve helps the engine to handle boost spikes in high boost pressure applications better. A surplus of boost will be released to the atmosphere and the turbocharger can be supplied with air quicker after the shifting process. This helps to eliminate the 'Turbo Lag'. The RENNtech 4-piece air box kit is made out of the highest quality pre-peg carbon fiber. The kit comes complete with flow optimized turbo tubes to increase the volume of incoming airflow. Our Stainless Steel Sport Mufflers and Downpipes are hand crafted and 100% designed and produced at the Stuart, Florida Headquarters. Both made out of T-304 stainless steel (SS) with 2 3/4" tubing, they offer lighter weight and improve performance by reducing back pressure, increasing exhaust gas flow and a crisper performance sound note. Our Stainless Steel Downpipes are equipped with the highest quality 200 Cell sport catalytic converters, to ensure lasting quality and a rich, consistent sound.
The intercooler upgrade kit allows to flow more than twice as much coolant as the OEM pump. Testing showed our Intercooler pump flows an impressive 8.7 G.P.M. @ 11.6 P.S.I. compared to the OEM pumps 3.00 G.P.M. flow rate. This increase in flow dramatically removes heat from the incoming air; allowing for a denser air/fuel mixture and substantially cooler charge air temperatures over the entire operating range. Our pump upgrade kit mounts in the OEM location without any modifications, due to its dramatically smaller size and lighter weight and comes complete with all necessary plumbing, electrical connectors, mounting hardware and installation instructions.
RENNtech upgraded turbochargers are equiped with lightweight forged billet wheels and feature a dramatically larger than stock impeller (inlet side) and an increase in the turbine trim (exhaust side). This combination of high quality, light weight components coupled with less rolling resistance from the ball bearing cartridge compensates for turbo lag despite being a functionally larger turbo. The cartridge supporting shaft is also both larger and stronger designed to handle the larger wheels and added power. This entire cartridge is then fine balanced as a complete assembly to compensate for these increases. The impeller and turbine housings are then precision CNC machined and flow tested in-house to fit the larger internal cartridge.
Higher flowing direct injection (high pressure) fuel pumps, to assure continues fuel flow in high performance applications are also included in the R3+ Package.
The R3 performance package increases performance to 840 hp and 945 lb-ft at the crank, without sacrificing daily driver comfort or reliability and offer huge gains across the entire RPM range.
Due to increased power and boost levels, 100 Octane or higher gasoline has to be used with R3+ upgraded RENNtech vehicles to avoid damage to the engine. States known for poor fuel quality have to be supplied with a lower power setup.
R3+ Performance Package includes:
RENNtech ECU Upgrade

RENNtech 3rd Gen. Diverter Valve

BMC High-Flow Air Filters

RENNtech Carbon Fiber Air Box

RENNtech Stainless Steel Sport Muffler

RENNtech Turbocharger Upgrade

RENNtech Stainless Steel Downpipes w/200 Cell Catalytic Converters

RENNtech Intercooler Upgrade Kit

High-Flow Direct Injection Fuel Pumps
Notes:
The R3+ Pkg requires an additional core charge, which will be credited upon return of the OEM tubo cores and OEM turbo pipes to RENNtech. The pipes have to be returned in good condition. Deep scratches and dents will void the credit.

The Carbon Fiber air box for the M157 requires modification to the OEM engine cover.

We have found the M157 engine stock performance numbers vary from the baseline figures claimed by Mercedes Benz. We typically see higher baseline numbers than claimed by the factory.

Power gains are calculated based on stock numbers measured by RENNtech.

Crank Performance Numbers are calculated with a 17% Drivetrain loss on 4MATIC vehicles.

Our numbers will be dependend on conditions and fuel quality. 100+ Octane gasoline is mandatory with this Performance Package.

States known for poor fuel quality have to be supplied with a lower power setup.
Performance Numbers Overview
S 63 AMG (W221 | Sedan | MY2006-13 | RWD | M157 | 5.5L V8 BiTurbo) Stock Performance (at crank):
Rated by Mercedes-Benz: 537 HP @ 5,500rpm; 590 LB-FT @ 2,000-4,500rpm
Rated by RENNtech: 605 HP @ 5,500rpm; 594 LB-FT 2,800-3,900rpm

Note: Mercedes M157 engine performance when measured, obtains higher power numbers than rated from factory.
S 63 AMG (W221 | Sedan | MY2006-13 | RWD | M157 | 5.5L V8 BiTurbo) Modified Performance (at crank):
Rated by RENNtech: 840 HP @ 5,500rpm; 945 LB-FT @ 3,700rpm
722 whp @ 5,500rpm; 813 wtq @ 3,700rpm
Crank Performance Numbers are calculated with a 14% Drivetrain loss on RWD vehicles.
Brand:
RENNtech
Product Code:
221.S63BT.R3+