Unitronic Cold Air Intake for MQB
Go Back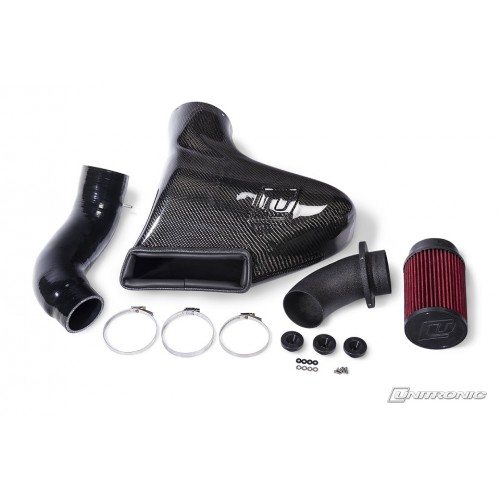 Product Information
With extensive background in engineering the finest in Performance Software, Unitronic developed an intake system that maximizes performance of vehicles equipped with the 1.8/2.0 TSI Gen3 (MQB) engines.

This translates into a complete Cold Air Intake System that is sure to perform to the maximum, providing increased power, air velocity, and throttle response, while also decreasing air intake temperatures and turbo lag.

In addition, Unitronic's Cold Air Intake will enhance the sound of your turbocharger and diverter valve
Features / Benefits
Optimized Design for Maximum Performance:
Unitronic specifically developed its air intake system to provide increased power, air velocity, and throttle response, while also decreasing air intake temperatures and turbo lag.
2/2 Twill Prepreg Carbon Fiber Weave:
High quality material to give you a lightweight, durable and resistant airbox.
Stainless Steel Hardware:
Rust resistant hardware that will outlast your vehicle.
Quality Silicone Components:
Multi ply silicone turbo inlet hose is strong enough to avoid collapsing when the engine is under hard acceleration.
Autoclave Construction:
The curing process is completed in an autoclave to eliminate resin voids thus ensuring a strong component. A UV and heat resistant clear coat is then added on top of the carbon fiber to protect it against discoloration and give it a nice, smoot surface finish.
Oversized Airbox Air Inlet for Increased Airflow:
Airflow capacity is increased when combined with Unitronic's Carbon Fiber Air Duct.
Enhanced Turbocharger Sound:
Unitronic's Cold Air Intake Systems feature an open element design which results in a more audible sound from your vehicle's turbocharger and Diverter Valve (DV).
Airbox Water Drainage Provision:
Open slots located at the bottom of airbox allow for the drainage of water.
Proprietary 3-inch Filter:
Unitronic's proprietary 3'' dry cotton filter is engineered to maximize air flow with its radius base while keeping dust and foreign debris away from your engine.
Smooth Flow Transition:
Ferrule provision on air filter base to ensure a smooth and linear airflow transition between elements.
Direct Bolt-On Fitment with OEM Mounting Locations:
Utilizes all OEM mounting locations through use of Unitronic's proprietary EPDM rubber mounting grommets.
​Hardware Included
3-inch Powdercoated Aluminum Inner Intake Tube

Multi-ply Turbo Inlet Tube

Carbon Fiber Box

Proprietary 3-inch Dry-Filter (Cotton)

Hardware Kit
The Unitronic Cold Air Intake System for vehicles equipped with the 1.8/2.0 TSI Gen3 (MQB) is designed to be simple to install with all the hardware necessary included. Installation time will take approximately one hour including the removal of the factory intake and installation of your new intake system.

A difficulty rating of 1 means that minimal tools and experience are required and those with a basic understanding of the vehicle should have no problem completing the installation.

Unitronic products are designed to meet all manufacturer tolerances and specification with regard to installation ease and tolerances. All of our products are developed to the highest standard of fitment and finish to ensure that it lasts the life of your vehicle.