Unitronic Cat-Back Exhaust System for Jetta GLI
Go Back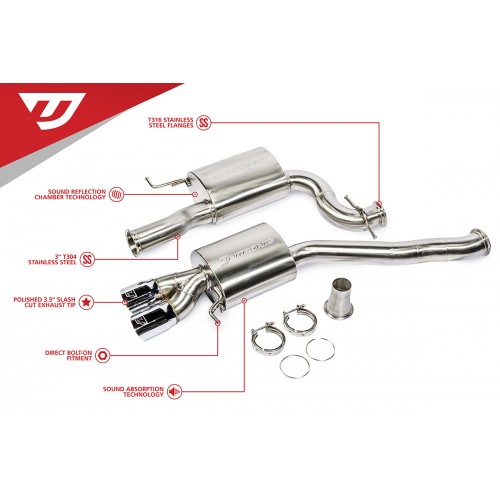 Product Information
With a full TIG welded construction of T304 stainless mandrel bent tubing, heavy duty T316 stainless steel flanges, and a sealing V-Band system, the Unitronic MK5/MK6 GLI exhaust is the most complete system available. With flow matched transitions from front to back, each section is designed to maximize airflow and performance.

Like all of Unitronic's Performance Exhaust Systems, a sealing V-Band fastener system, using T316 stainless steel flanges, was utilized to ensure a leak proof connection every time.

With standard flat V-Band flanges, the joining sections can shift over time and can even lead to leaks if not corrected. With the ring sealed design that comes with every Unitronic MK5/MK6 GLI Exhaust, leaks and sliding of the flange is eliminated by a crush ring to ensure proper sealing and mounting. With matching the V-Band clamp to the flange profile and including a sealing ring, we have ensured a consistent and precise fit.

Every Unitronic Exhaust System comes embossed with a Unitronic logo, equipped with an individualized serial production plate to ensure authenticity, and a brushed matte finish that will outlast the life of your vehicle. With a variety of slip fit reducers available, Unitronic's MKV/MKVI GLI Downpipe and Catback will match with any existing hardware you have on your vehicle!
HARDWARE INCLUDED
Unitronic MK5 Jetta/GLI & MK6 GLI 3" Axle Pipe w/ Muffler

Unitronic MK5 Jetta/GLI & MK6 GLI 3" Mid-Pipe w/ Muffler

Unitronic 3" V-Band Exhaust Clamps

Unitronic 3" V-Band to 60mm Female V-Band Adapter