Unitronic Turbo Inlet Elbow for 1.8/2.0 TSI MQB
Go Back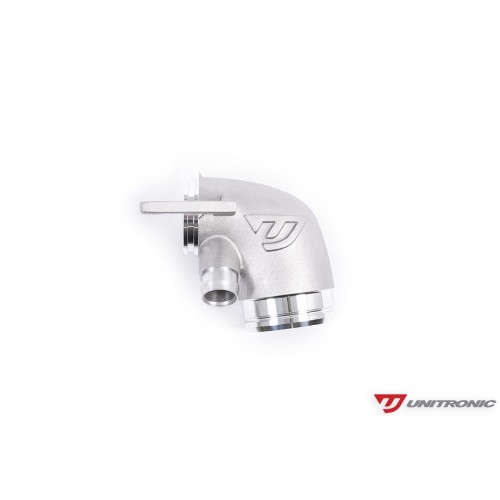 Product Information
Unitronic's new Turbo Inlet Elbow for the 1.8/2.0 TSI MQB ISxx turbochargers is NOW AVAILABLE!

Made from aircraft grade cast Alumimum, Unitronic engineered this direct bolt-on upgrade to eliminate upstream airflow restrictions, allowing for it to both outflow and outperform anything on the market.
Unitronic new turbo inlet elbow was developed utilizing the latest state-of-the-art tools, equipment, and computer aided design software to achieve this unique design that optimizes airflow and speed, while eliminating restrictions, allowing for positive pressure pre-compressor as illustrated in our EFD renderings.

It's important to not only engineer a product to be the best it can, but it's also important to know it's limits. Analyzing maximum airflow is great, but it's important that the measurements are performed in realistic conditions. In efforts to allow Clients to directly compare the flow data with competitors' published data, Unitronic performed the airflow tests at 28 inches of water, which is a direct comparison to that of the competitor's inlet.
With the focus and intent to optimize flow, Unitronic Hardware Engineers extended testing further, optimizing the design through different iterations at different mass flow rates until an acceptable threshold had been reached. It was identified that the stock (OEM) elbow was only able to handle up to 30 lbs/min (380 CFM) before it began to choke, causing air cavitation, ultimately resulting in a restriction to the overall performance of the turbo and system.
Unitronic's Turbo Inlet Elbow features full one-piece design with CNC-machined inlet and outlets, fully integrated (non-pressed in) CNC-machined PCV inlet, tapered outlet mouth for an ultra-smooth flow-matched airflow transition into the turbocharger, and includes a fully integrated bracket for a direct bolt-on fitment that installs within minutes and minimal tools.
FEATURES
Made from aircraft grade cast Aluminum

Outflows the stock (OEM) unit

Supports unrestricted airflow up to 50 lb/min

Full one-piece design (PCV inlet port and securing arm)

Fully integrated CNC-machined PCV inlet

CNC-machined inlet and outlet

Tapered outlet mouth for ultra smooth flow-matched airflow transition

Direct bolt-on fitment

Installs within minutes with minimal basic tools