Unitronic Cat-Back Exhaust System
Go Back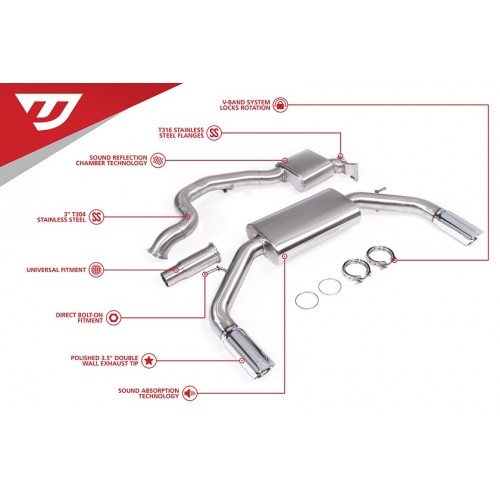 Product Information
Like all of Unitronic's Performance Exhaust Systems, a unique v-band fastener system, using T316 Stainless Steel flanges was utilized to ensure a leak proof connection every time. This is achieved through a locking ring on all Unitronic v-band flanges to guarantee a centric alignment of the two flanges. Unitronic's mufflers feature a high density, high temperature glass fiber packing and are stamped with the Unitronic logo with a straight-through, free flowing muffler design. These attributes combined ensure maximum performance, while maintaining a comfortable and unobtrusive tone inside the cabin. Exiting at the rear, exhaust gasses pass through dual 3.5" Double Wall Polished Exhaust Tips with Engraved Unitronic Logo.
Features / Benefits
Direct Bolt-On Fitment with OEM mounting locations:
To ensure a seamless direct bolt-on upgrade

T304 Stainless Steel Tubing:
Top quality material that will not rust and will outlast your vehicle.

T316 Stainless Steel Flanges:
Durable, rust proof and laser cut.

TIG Welded Construction:
Professionally TIG welded to ensure longevity, durability and top tier craftsmanship.

Unique V-Band Fastening System Featuring Clampco® clamps:
Maintain a perfect alignment of v-band flanges while ensuring a leak-proof connection every time. Fully reusable and quick to install.

Straight-through, free flowing muffler design:
Optimal performance achieved by removing restriction and reducing back pressure.

Sound Absorption Technology:
Perforated chamber packed with high quality and durable high temperature fiberglass wool; ensures a deep tone while absorbing unwanted frequency.

Sound Reflection:
: Sound reflection chamber used to cancel drone noise and to ensure comfortable sound level in the cabin

Double Wall Polished Exhaust Tips with Engraved Unitronic Logo:
For the best high-end look.

Embossed Unitronic Logo:
All mufflers and resonators are embossed with Unitronic Logo.

Unitronic Life Time Warranty:
Unitronic Performance Hardware Products carry a Limited Lifetime Warranty
​
Hardware Included
Unitronic 3" Reducer to OEM size section

Unitronic 3" Mid-Pipe w/ Resonator

Unitronic 3" Rear Section w/ Muffler

Unitronic 3" V-Band Exhaust Clamps

Unitronic 3" V-Band Sealing Rings
​
Recommended Software
Stage 1

Stage 1+

Stage 2 (If equipped with Unitronic's 3'' Downpipe)

Stage 2+
​
Install
Featuring a unique v-band fastening system and engineered using the latest in 3D modeling technology, Unitronic Performance Exhaust Systems are made easy to install.