CSF Intercooler Upgrade for C8 RS6/RS7 Thermal Black
Go Back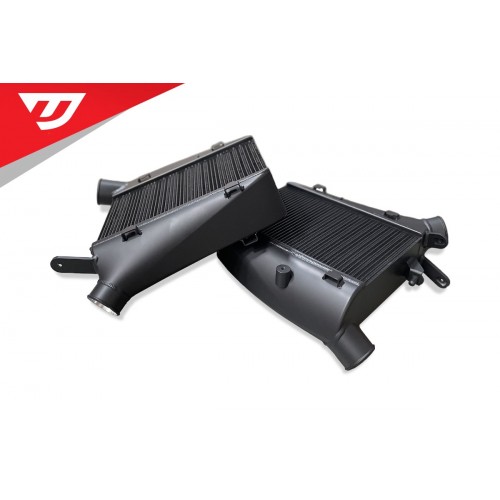 Product Information
Unitronic is pleased to announce its partnership with CSF Race on the C8 RS6/RS7 platform and now offers and recommends their High-Performance Intercooler Upgrade System for the C8 RS6/RS7.

Through Unitronic Performance Software development, it was quickly apparent that the factory intercoolers were inefficient and incapable of supporting the demands of a tuned 4.0TFSI EA825 engine. Our friends over at CSF, who partnered together with PWR in bringing Formula-1 performance to the automotive aftermarket with their CSF's High-Performance Intercooler Upgrade System. Unitronic opted to put the product to the test with sights set on delivering increased efficiency, resistance to heat soak even through the most grueling and demanding conditions, together with superior cooling performance.

Throughout all in-house testing and validation, the CSF High-Performance Intercooler Upgrade System for the C8 RS6/RS7 delivered on its promise of drastically reduced Intake Air Temperatures (IATs) from stock turbo Stage 1 all the way to Stage 3 with upgraded hybrid turbochargers.
Maximized charge air cooling abilities and lowers Intake Air Temperatures (IATs)

Increases efficiency and resists heat soak for maximum performance in street and high-performance demanding environments or race conditions

Formula-1 Performance Grade Core by PWR (2-Row Core Featuring Rolled Tubes w/ Inner Fins)

CNC-machined billet Aluminum end tanks

TIG-welded construction

Precise OEM-like fitment

True direct-fit bolt-on upgrade

Thermal Black Heat Dispersion Coating
The most important feature of the CSF High-Performance Intercooler Upgrade is the PWR intercooler cores. CSF's strategic relationship with PWR has allowed the inclusion of this core, which is unlike any other available for the C8 RS6/RS7.

3mm tall, rolled tubes with turbulated inner fins maximize the dissipation of heat from the charge air flowing through the pressure side of the intercooler core

The 4.85mm tall multi-louvered fin is the most efficient fin in the high-performance industry, with performance similar to PWR's Formula-1 grade race intercooler cores

When analyzing intercooler performance, it's important to not only consider maximum cooling abilities, efficiency, and resistance to heat soak, but also recovery time. The CSF High-Performance Intercoolers performed optimally in nearly all demanding conditions.

With the OEM intercoolers, they start to exhibit heat soak and run-away increases in IATs nearly immediately, especially when combined with increased boost levels and demands of a tuned vehicle, which then triggers the Bosch MG1 ECM found in the C8 platform to begin applying corrections which subsequently lowers performance

.