Unitronic 4" Turbo Inlet Elbow for 2.5TFSI
Go Back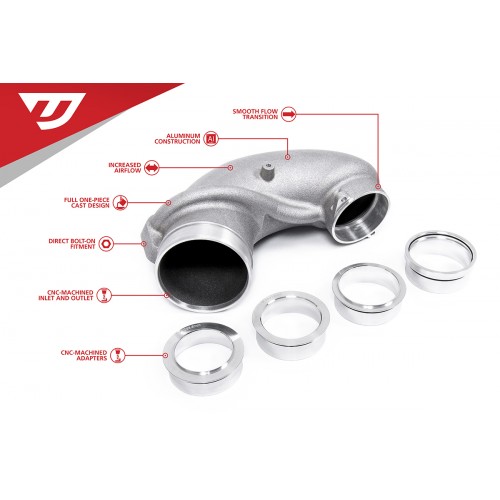 Product Information
Unitronic's all new 4" Turbo Inlet Elbow for the 2.5TFSI EVO (EA855) engines, found in the 8V.2 RS3 and 8S TTRS, will give you the competitive edge to gain that extra tenth of a second on the stock turbo, while supporting the airflow demands for all of the mainstream hybrid turbos currently on the market. Made from aircraft grade cast Aluminum and featuring a fully integrated PCV recirculation artery as well as CNC-machined mounting flanges, inlet and outlets, it's the ultimate turbo inlet elbow upgrade for your car.

Designed using the latest in 3D scanning and modeling, it will fit perfectly using OEM mounting points as a direct bolt-on upgrade. Unitronic engineers worked extensively with popular aftermarket turbo manufacturers to offer four modular CNC-machined billet Aluminum compressor inlet adapter rings to support many mainstream turbo upgrade solutions currently offered on the market.
28% increase in flow over stock

Proven power, torque, and airflow gains

Modular CNC-machined billet Aluminum compressor inlet adapter rings

Fully integrated PCV recirculation artery

OEM PCV functionality for adequate crankcase ventilation

Aircraft grade cast Aluminum construction

CNC-machined mounting flanges, inlet and outlets

Smooth airflow transitions

Direct bolt-on fitment
Unitronic 4" Turbo Inlet Elbow for 2.5 TFSI EVO

1 x Unitronic Adapter Ring (56.5 mm, 62.8 mm, 66 mm or 70 mm)

Silicone Vacuum Line

All Necessary Hardware Included
Airflow Validations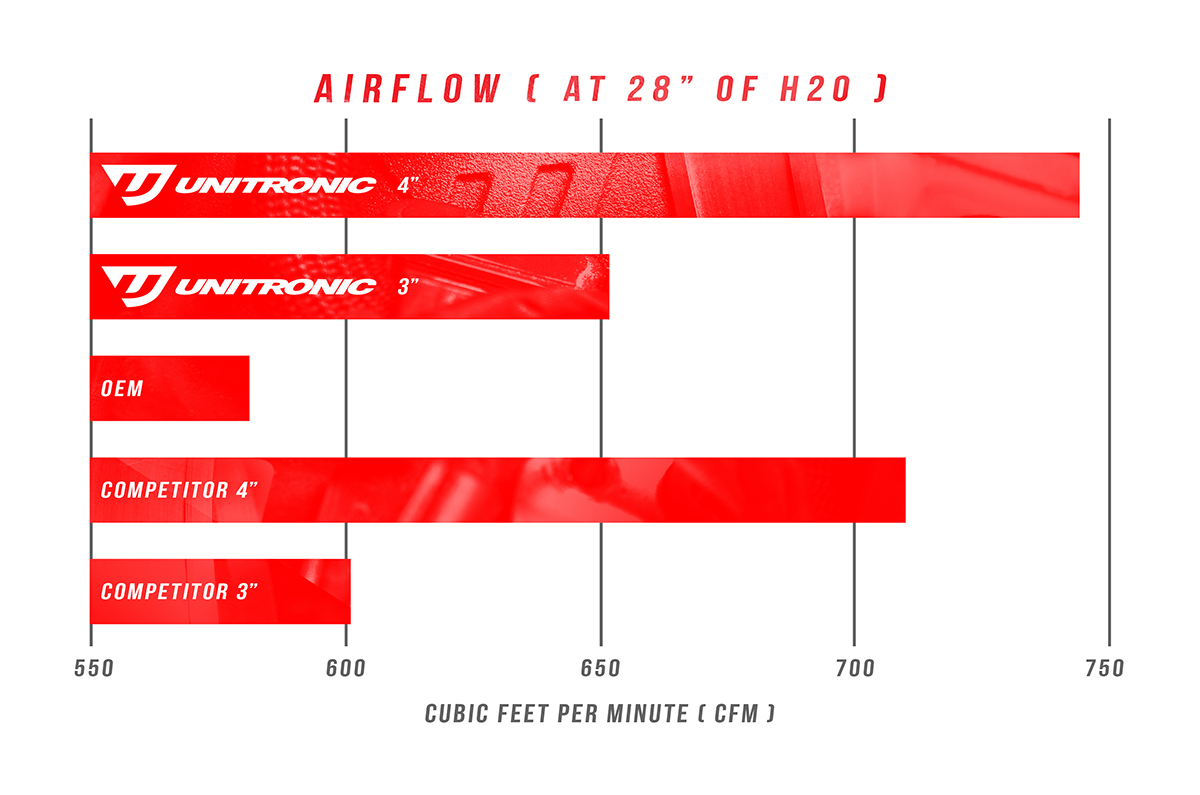 Using its in-house Superflow SF-1020 Flow Bench, Unitronic Engineers further validated designs to ensure that the Unitronic 4" Turbo Inlet effectively optimizes airflow in a variety of conditions. The OEM inlet yielded a peak flow rate of 581 CFM at 28" of H2O (Aq), while the Unitronic 4" Turbo Inlet Elbow achieved 744 CFM, for a gain of 28% over the OEM inlet.
Airflow Simulations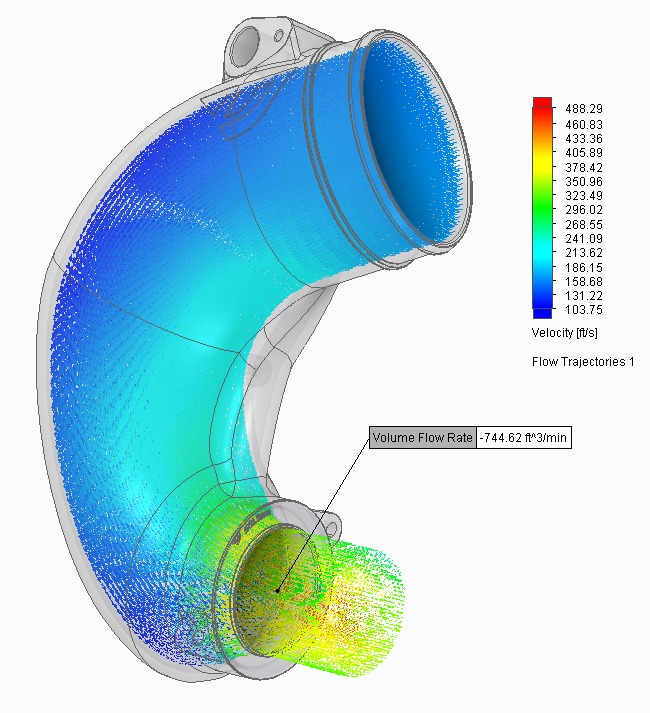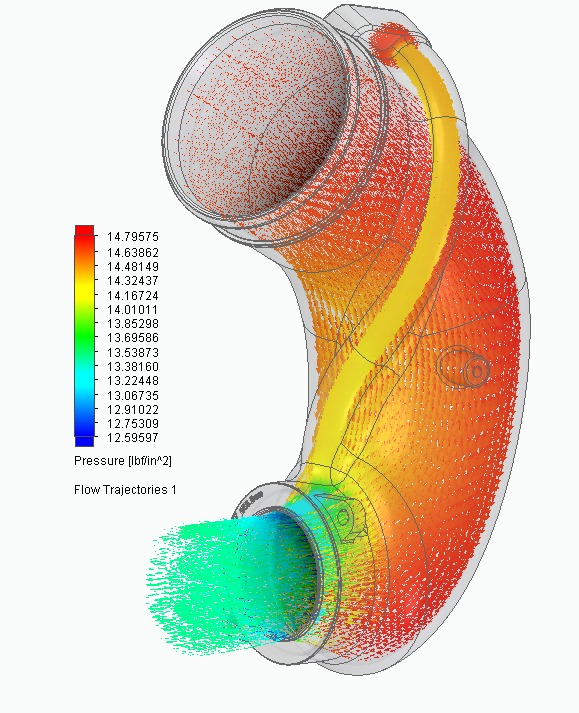 Overall product design proceeds through, not only focusing on increasing overall performance of the product, but also the small and often overlooked aspects of the product's design and function are of utmost importance to Unitronic. With a product like this 4" Inlet, it was important for aspects such as positive crankcase ventilation (PCV) to be analyzed to ensure that the PCV system will continue to function as originally intended by Audi's Engineers, allowing crankcase pressure to be properly ventilated, as we all know what can happen over the long term, when crankcase pressure is not properly managed. As a result, extra attention was spent to allow for a complete one-piece PCV design. In keeping consistent with the factory emissions and PCV systems, Unitronic's fully integrated PCV routing functions as it was originally intended. A pressure plot of the PCV exit shows that it has been positioned for optimized function, aligned with the factory's intent.
Modular Fitment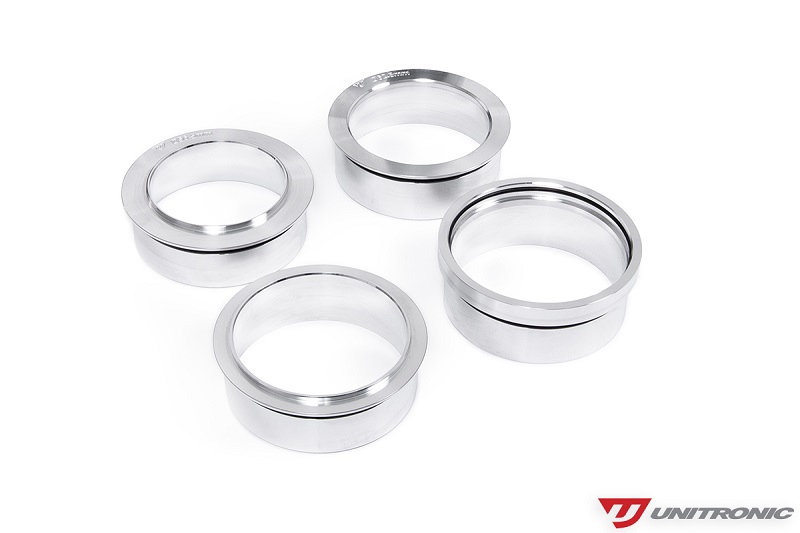 Through the elimination of upstream [pre-compressor] restrictions, Unitronic's new 4" Turbo Inlet Elbow improves the efficiency of the factory Borg-Warner turbocharger and is compatible with many mainstream stock frame hybrid turbochargers, including The Turbo Engineers TTE700, Iroz Xona 710H & 780H, Pure Turbos, and SRM/EC GTX35, through it's versatile, precisely CNC-machined billet Aluminium compressor inlet adapters.
The Unitronic 4 inch Turbo Inlet Elbow for vehicles equipped with the 2.5 TFSI EVO engine is designed to be simple to install with all the necessary hardware included. Installation time will take approximately one hour including the removal of the factory elbow and installation of your new Turbo Inlet Elbow.

NOTE: This product is compatible with Left Hand Drive (LHD) models only.
I
nstall Guide