Unitronic Intercooler Upgrade for B9 S4/S5
Go Back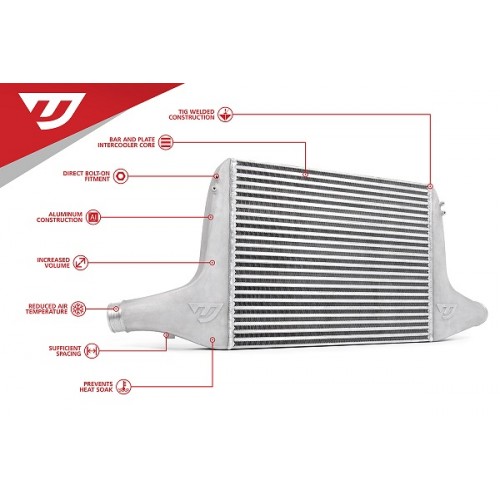 Product Information
Perfectly designed to fit vehicles equipped with 3.0 TFSI EA839 engines, this Unitronic Intercooler Upgrade Kit is a direct OEM replacement kit featuring an over-sized 21.65" x 16.61" x 2.52" bar and plate intercooler core made from cast aluminum core and end tanks, proprietary internal fin and louver configuration, and a TIG welded construction.

Unitronic's Intercooler Upgrade Kit will resist heat-soak and provide optimal and efficient cooling in any driving condition.
Highly efficient bar & plate intercooler core

Drastically reduces charge air temperature for cooler, more dense air

Significantly more resistant to heat-soak

79% more volume than OEM (Unitronic Core Dimensions: 21.65" x 16.61" x 2.52" / 550.0mm x 421.9mm x 64.0mm)

Cast Aluminum core and end tanks

Direct OEM replacement; no bumper, radiator support, or other trimming required
Unitronic Direct Fit Intercooler Core for vehicles equipped with 3.0 TFSI EA839 engines.

All required hardware.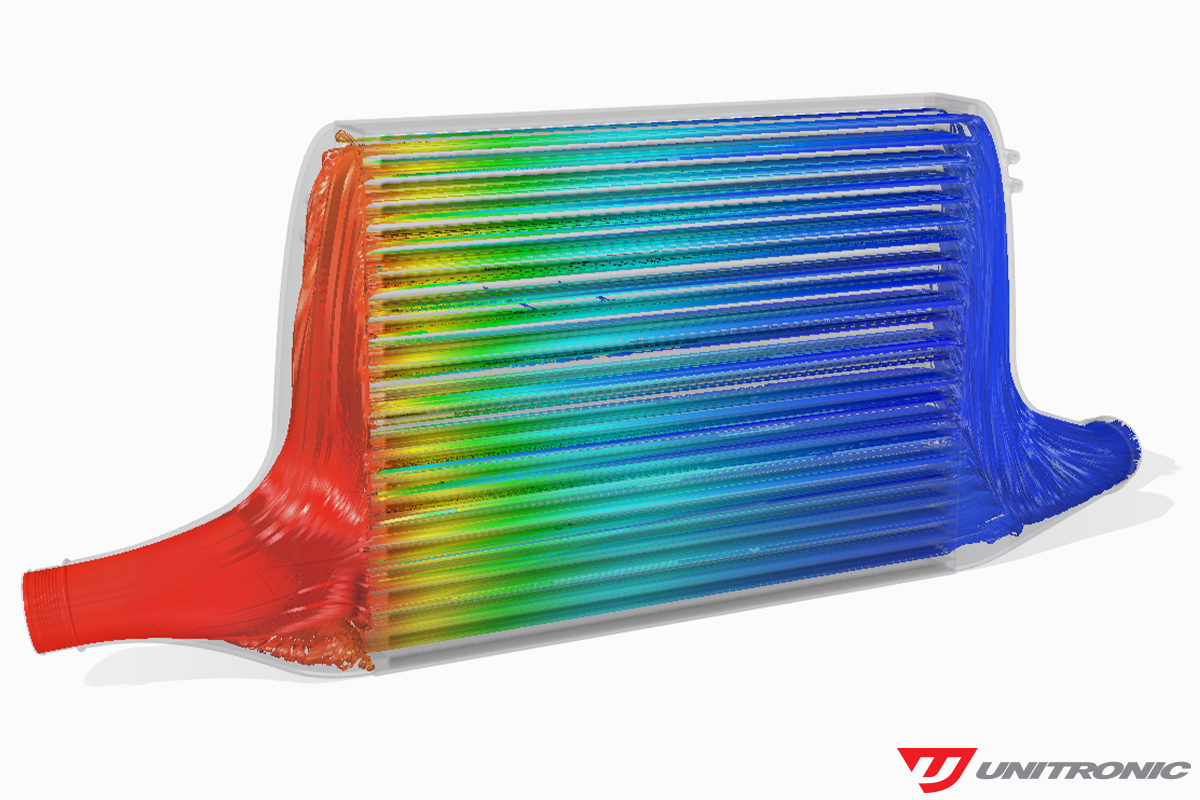 At Unitronic, development begins with setting the objectives; performance, efficiency, aesthetics and quality. Operations start with 3D scanning the 3.0 TFSI EA839 engine bay and OEM components with its in-house 3D scanner. Once 3D scan data has been collected and processed, Unitronic Hardware Engineers then interact with the 3D models to identify fitment constraints, mounting locations, other component locations, etc. to ensure the final product fits perfectly within the "envelope".
Design and Engineering begins with the evolution of the design in meeting the objectives. Criteria from a top level is first met with the platform's design constraints; breaking it down to the details in optimizing the design. With upfront engineering fluid dynamics (EFD), Unitronic is able to hone in and refine the areas that are most effective in meeting those objectives.
With the ability to perform different iterations from design changes we are also able to accurately predict performance on how the design will perform. Above is a predictive simulation plot operating within the same conditions it was tested in. Results illustrate and validate the actual data collected.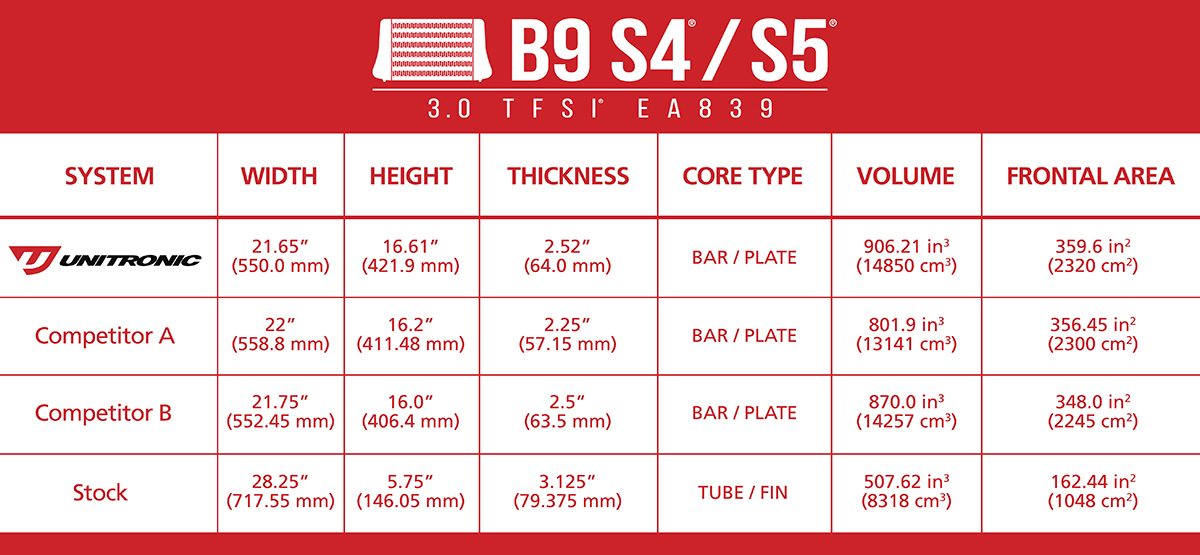 Unitronic's bar and plate intercooler core is constructed of cast aluminum featuring a unique staggered and louvered fin configuration to maximize efficiency, significantly reducing charge air temperatures allowing for cooler, more dense air to be ingested by the engine; ultimately resulting in an increase in engine performance. When intake air temperatures reach a specific threshold, the engine control unit begins to compensate to account for the air temperature, resulting in a decrease in performance. Unitronic's core has 79% more volume than stock measuring 21.65" x 16.61" x 2.52", allowing for a greater volume of air to exchange heat, which, combined with a proper fin configuration, allows for maximum efficiency and reduction in heat-soak thresholds without producing a significant pressure drop.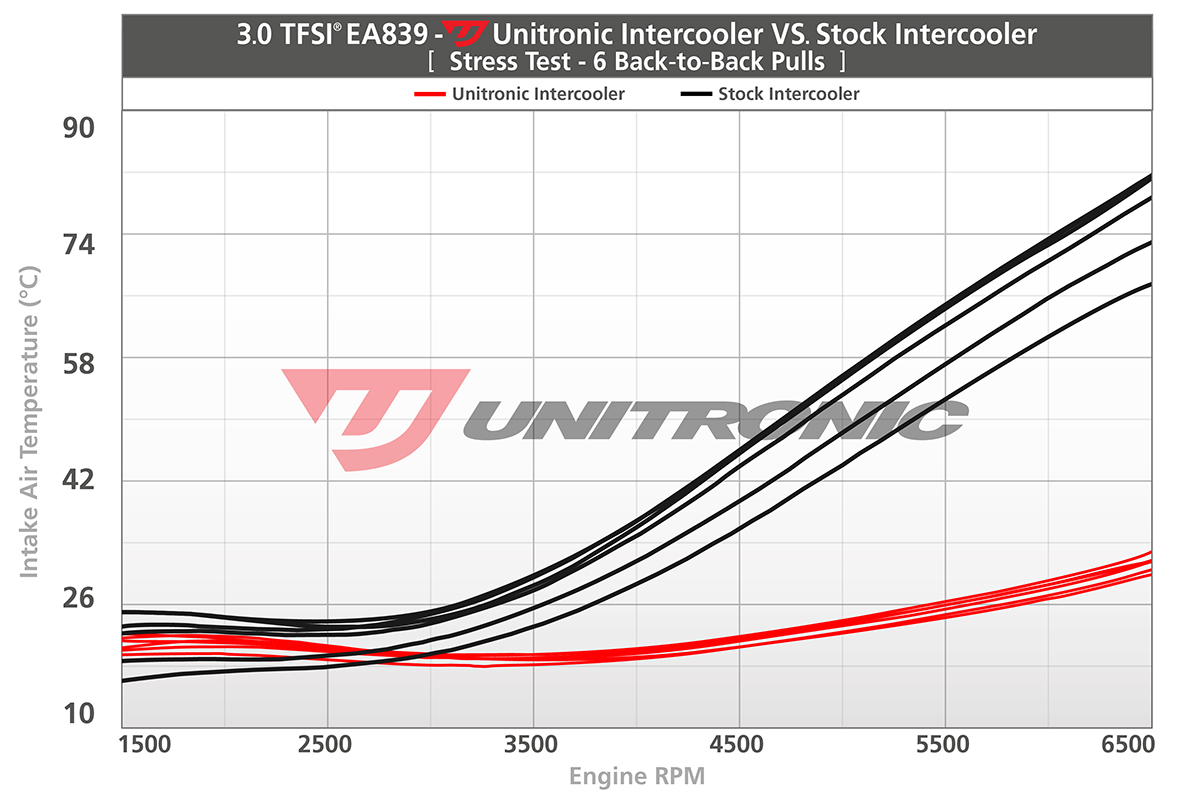 Utilizing its own B9 Audi® S4® for research and development provided Unitronic with an in-house platform to run through testing. Data was collected on its in-house MAHA Chassis Dynamometer, using our standard cooling fans with ducting properly aligned with the front end of the vehicle. The vehicle's front bumper/fascia was fully affixed for all tests. All data was collected on the same day, starting with the OEM intercooler testing first.
Ambient air temperature was stable at 63°F (17°C) throughout the day. Testing consisted of 6 consecutive dyno pulls with a 20 second pull and a 30 second cool down period in between runs, with both the OEM and Unitronic Intercoolers to collect intake air temperatures to provide data on cooling abilities, efficiency, and resistance to heat soak compared to the OEM unit.
The graph above shows the Intake Air Temperature for both the OEM and Unitronic Intercoolers, individually for each of the 6 runs. The Unitronic Intercooler provided significant reductions in air temperature resulting in a cooler, denser charge air being ingested by the engine, resulting in increased performance. It's resistance to heat soak means that the core retains its cooling abilities, even though the most rigorous of conditions.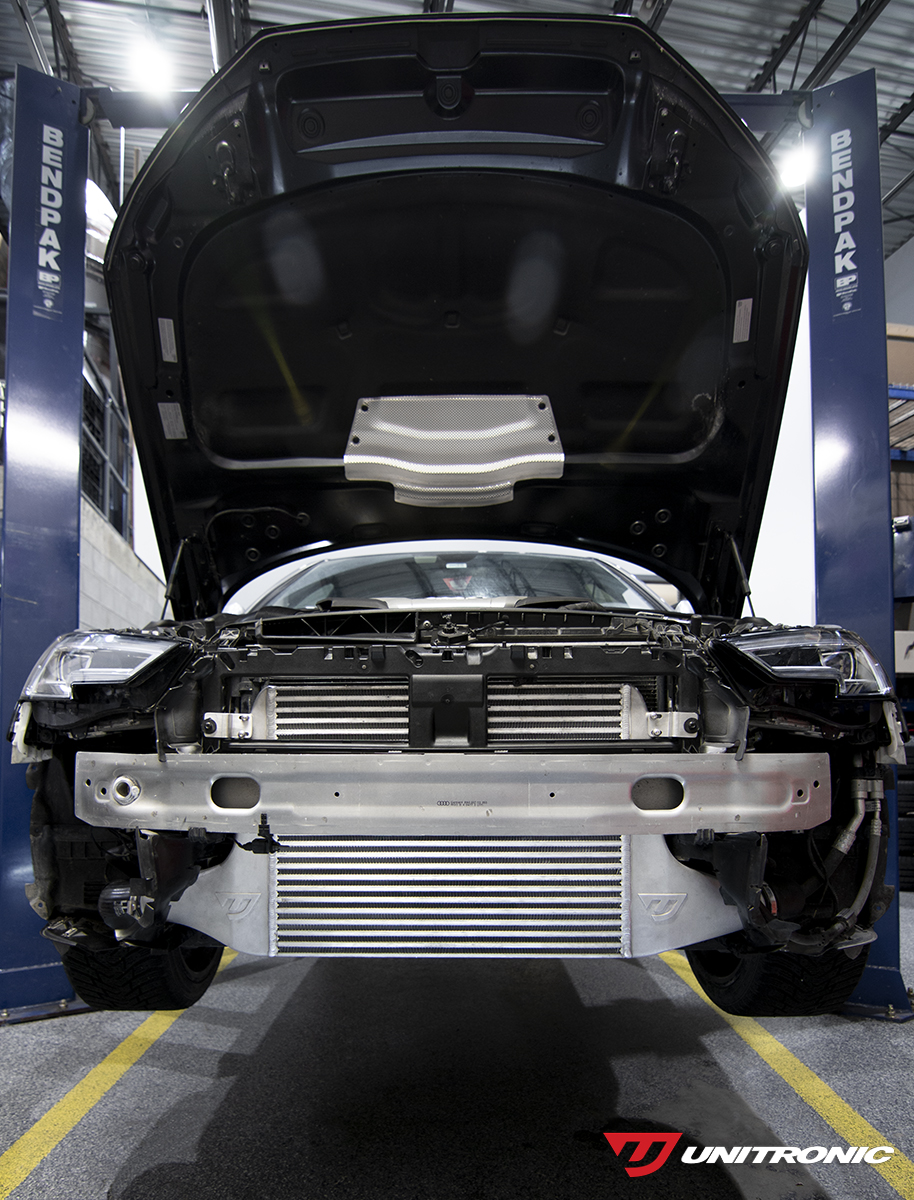 Entering and exiting the core is an important aspect that should not be forgotten about. With airflow and fitment implications, Unitronic went through many end tank prototypes and production samples prior to approving this Intercooler for production. Unitronic's cast Aluminum end tanks are designed with tolerances of +/- 0.020" to ensure perfect fitment across all of our production units. Inlet and outlet design has also been optimized to ensure smooth airflow through the intercooler and features barbed/serrated bead rolled machining to ensure the charge hoses stay securely affixed.
Like all Unitronic Performance Hardware, this Intercooler offers direct bolt-on fitment, retaining the factory mounting locations in order to simplify the installation process.
Unitronic's Intercooler Upgrade Kit for vehicles equipped with 3.0 TFSI EA839 engines, is a direct OEM replacement kit. Using 3D modeling technology, Unitronic's Intercooler Upgrade Kits are a direct bolt-on upgrade that installs within a matter of hours. Basic mechanical knowledge and tools will accomplish the job.