Unitronic Intake for B9 S4/S5 EA839
Go Back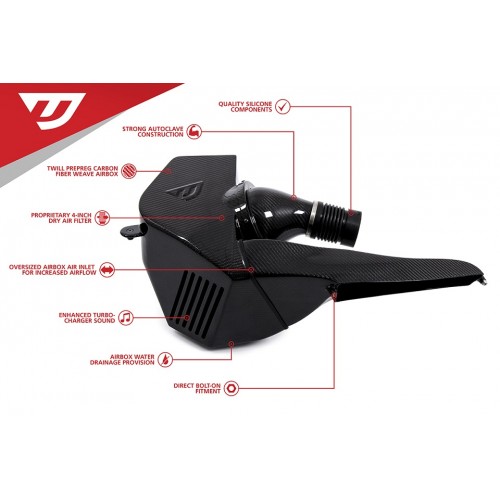 Product Information
Unitronic's all-new Carbon Fiber Intake System for the B9 3.0TFSI EA839 engines, found in the B9 Audi S4 and Audi S5, helps free up the intake restrictions of the OEM unit. It is engineered for seamless integration within the engine bay and improves the performance, look and sound of your vehicle.

Built with reinforced materials, high quality EPDM couplers and stainless steel hardware, this Intake System is more than capable of standing up to the rigors of track use or daily driving.

2/2 Twill prepreg carbon fiber weave

Autoclave construction

EPDM couplers

High-quality stainless steel hose clamps

Direct bolt-on fitment with OEM Mounting Locations & EPDM mounting grommets

Smooth airflow transitions

Proven power, torque, and airflow gains
Unitronic Carbon Fiber Airbox

Carbon Fiber Air Duct

Carbon Fiber Transition Tube

EPDM Flex Coupler

6" Tapered Cone Air Filter

All Necessary Hardware Included
Airflow Optimization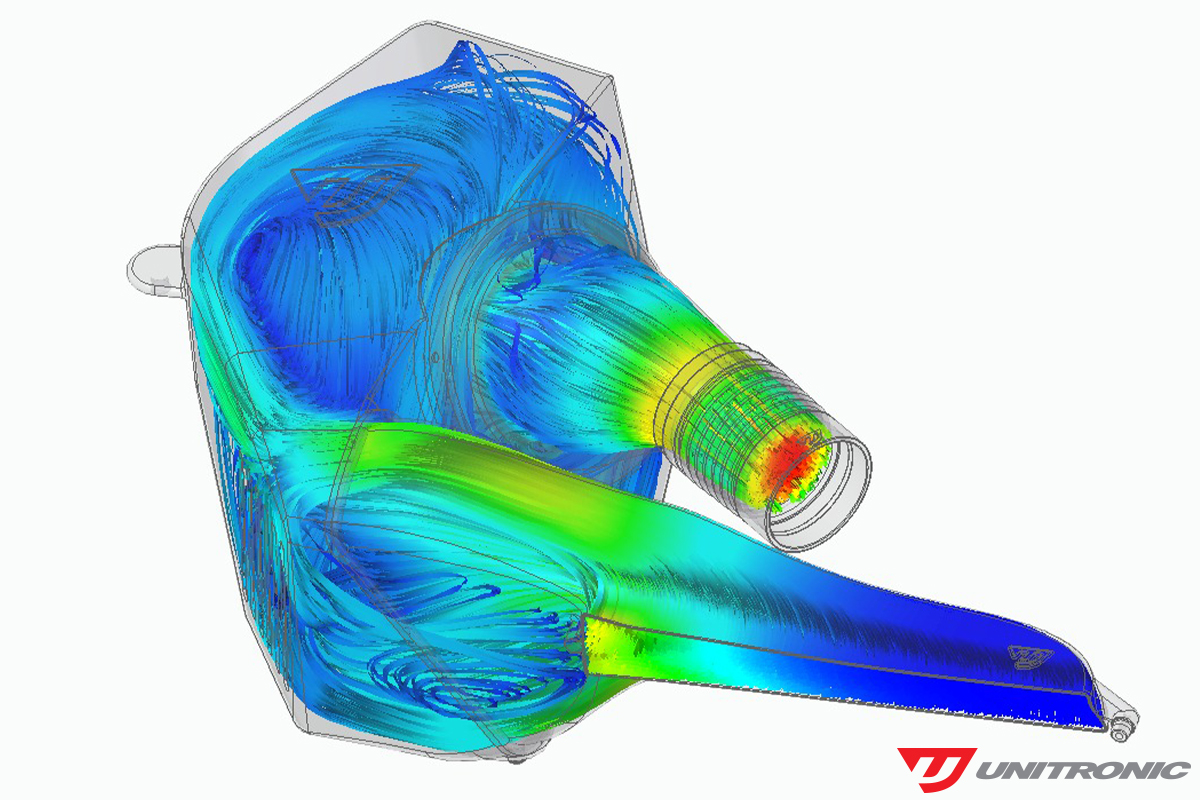 To validate its form through function; Unitronic engineers strategically used CFD to maximize its efficiency. Every aspect of the design was studied closely, iteration after iteration, until reaching the maximums governed by the laws of physics. The CFD simulations illustrate how well airflow travels through the system. The primary focus was to achieve laminar flow and minimal pressure drop in all areas of the design. The result of this is an increase in volumetric efficiency.
Improved Flexibility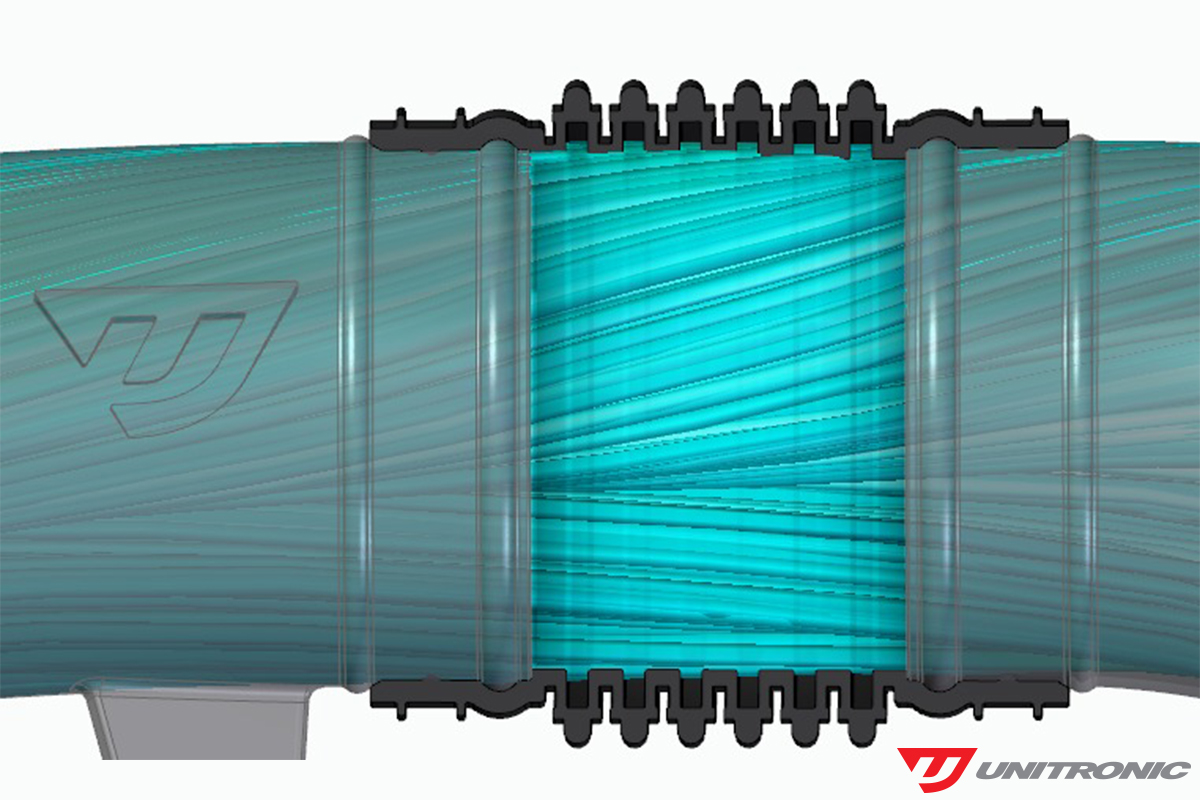 Unitronic high-quality EPDM silicone couplers offer a superior amount of flexibility over traditional silicone, while still offering the rigidity and strength needed to support high-powered 3.0TFSI's. Unitronic's engineers also created a design that allows for smooth, laminar airflow on the inside walls, while maintaining flexibility through the means of a non-collapsing structural rib profile. Unitronic's couplers are designed to perfectly align with the bead rolls on the carbon fiber tubes, to ensure a perfect and seamless connection; hose clamp guides ensure perfect alignment.
Proven Power and Torque Gains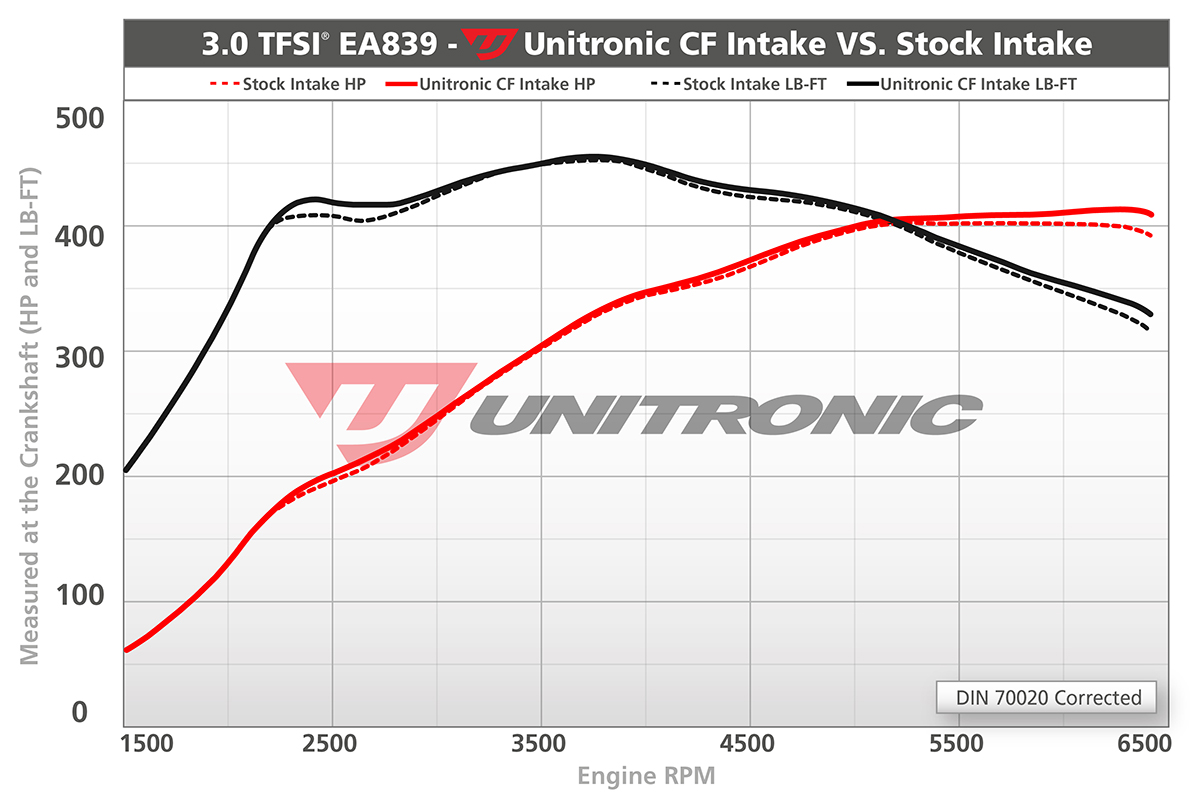 Unitronic Engineers further validated designs to ensure that the Unitronic Carbon Fiber Intake System developed more power using its in-house MAHA Chassis Dynamometer. Unitronic was able to measure considerable horsepower and torque gains in tuned vehicle applications.
Improved Aesthetics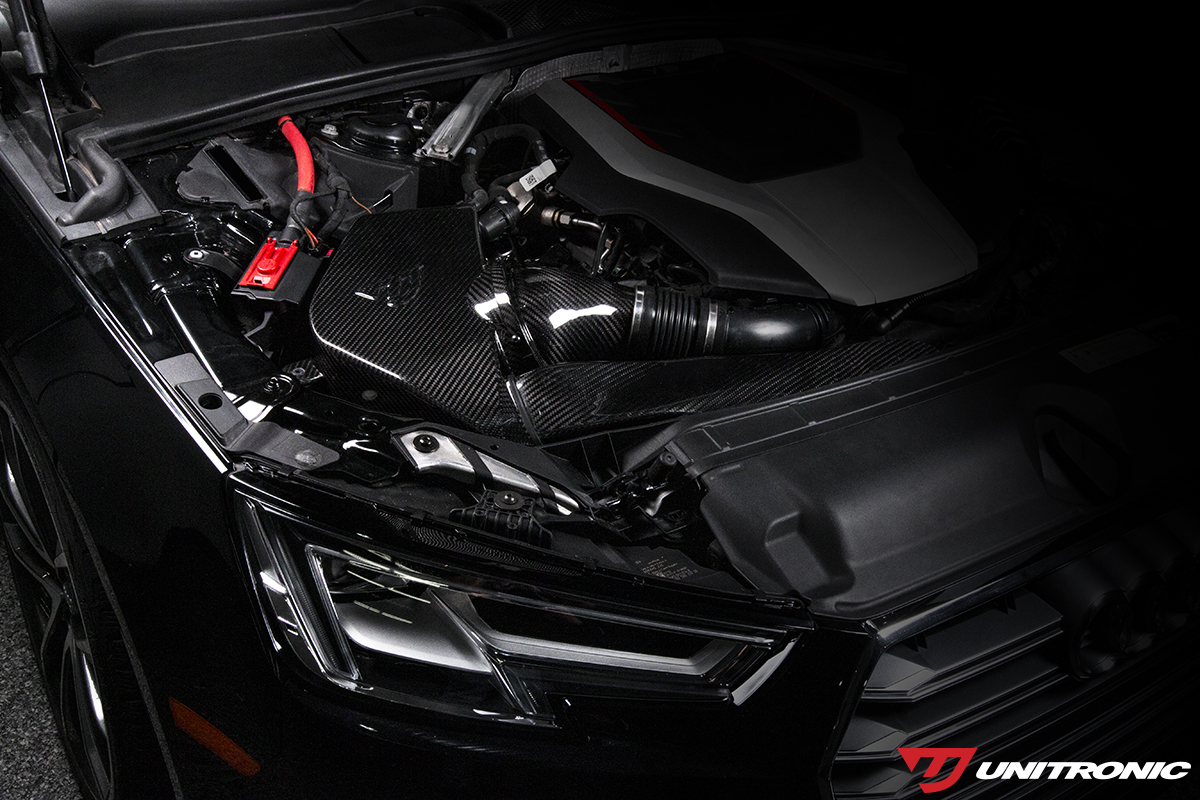 The Unitronic Carbon Fiber Intake System offers superior fit and finish with a direct bolt-on fitment, retaining the factory mounting locations and simplifying the installation process using our very own mounting grommets.
Install
The Unitronic Carbon Fiber Intake System for vehicles equipped with the 3.0 TFSI EA839 engine is designed to be simple to install with all the necessary hardware included. Installation time will take approximately one hour including the removal of the factory intake and installation of your new Unitronic Intake system.
Installation Guide