Unitronic Cat Back Exhaust System - Black Round Tips
Go Back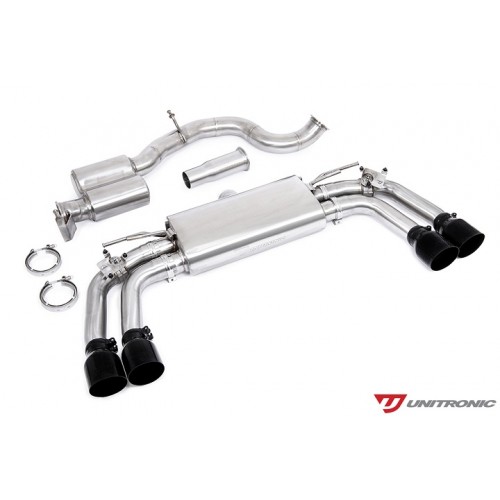 Product Information
This valved, Unitronic Cat-Back Exhaust System for the 8V & 8V.2 S3 equipped with the 2.0 TSI EA888 Gen 3 MQB engine features 3-inch T304 Stainless Steel mandrel bent tubing, high density, high temperature fiberglass wool packed muffler, multiple exhaust tip options and high quality v-band fasteners with T316 Stainless Steel flanges. These attributes combined with extensive R&D testing, help ensure perfect fitment and maximum performance, while maintaining a comfortable and unobtrusive exhaust tone inside the cabin.
Valved Exhaust System:
Retains OEM valve position and functionality.
3-inch T304 Stainless Steel Tubing:
Quality rust-free material that will outlast your vehicle.
T316 Stainless Steel V-Band Flanges:
Durable, rustproof and cnc machined.
Direct Bolt-On Fitment:
Uses all factory exhaust hangers which do not require modifications or adjustments.
TIG Welded Construction:
Professionally hand welded to ensure longevity and leak proof resistance.
Unique V-Band Fastening System Featuring Clampco® Clamps:
Maintain a perfect alignment while insuring a leakproof connection every time. Fully reusable and quick to install.
Straight-Through, Free Flowing Muffler Design:
Optimal performance achieved by removing restriction and reducing back pressure.
Universal Fitment:
Comes with an OEM sized reducer for a direct bolt-on fitment with the factory exhaust. Optional 3" adapter available for most aftermarket exhaust systems.
Sound Reflection Chamber Technology:
Sound reflection chamber used to cancel unwanted sound frequency and ensure a deep tone.
Sound Absorption Technology:
Perforated chamber packed with High quality and durable high temperature fiberglass wool. Assures a deep tone and unwanted frequency absorption.
Black 4-inch Slash Cut Round Exhaust Tips:
Also engraved with the Unitronic logo, these optional tips are easy to swap with their slip on design.
Unitronic 3" Mid-Pipe w/ Resonator

Unitronic 3" Rear Section w/ Muffler and Valves

Unitronic 4" Black Round Tips w/ Engraved Logos

Unitronic 3" V-Band Exhaust Clamps

Unitronic 3" V-Band Sealing Rings

Unitronic 3" V-Band Adapter

All Necessary Installation Hardware
Install
Featuring a unique v-band fastening system and quality engineering using the latest in 3D modeling technology, Unitronic Performance Exhaust Systems are made easy to install.