Unitronic Forged Carbon Fiber Intake For C8 RS6/RS7
Go Back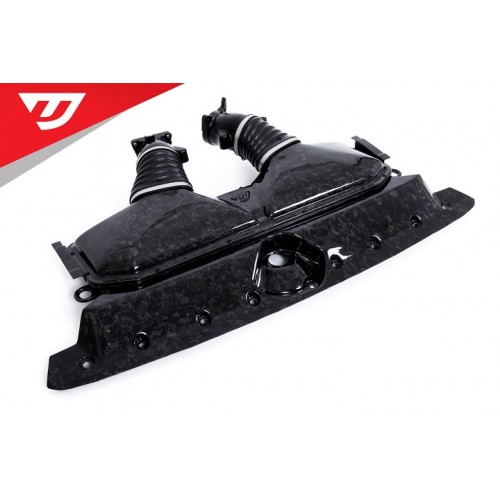 Product Information
Unitronic is proud to release its Carbon Fiber Intake System and Turbo Inlets for the C8 RS 6 and RS 7 equipped with the 4.0TFSI EA825 engine. This complete Intake System delivers massive gains of up to 58HP / 54LB-FT (Stage 2 93oct) made possible by optimizing airflow and alleviating pre-compressor restrictions with the factory system, netting up to 99.8% more flow than stock.

With five different finishes to choose from including; Gloss Carbon, Matte Carbon, Forged Carbon, Red Carbon Kevlar and Blue Carbon Kevlar, combined together with modular adapter rings on the Turbo Inlets to allow for fitments with both the stock and hybrid turbos, this Intake System allows you to personalize your engine bay with a premium look to match its superior performance.
For 2023 RS 6 / RS 7, please add the PCV Adapter Kit for 2023 C8 4.0TT to your order.
Optimized Design for Maximum Performance:
Unitronic specifically developed its air intake system to provide increased power, air velocity and throttle response.
Proven Airflow and Power Gains:
Up to 99.8% more flow than stock and +58hp/+55lb-ft tq dyno gains (measured with Unitronic Stage 2 93 AKI tuned vehicle).
Personalize your Engine Bay:
5 carbon fiber finishes to choose from including Gloss, Matte, Forged, Red Kevlar, and Blue Kevlar.
2/2 Twill Prepreg Carbon Fiber Weave:
High quality material to give you a lightweight, durable and resistant airbox. (for Gloss, Matte, and Carbon Kevlar options)
Autoclave Construction:
The curing process is completed in an autoclave to eliminate resin voids thus ensuring a strong component. A UV and heat resistant clear coat is then added on top of the carbon fiber to protect it against discoloration and give it a nice, smooth surface finish.
Oversized Turbo Inlets:
Massive 74mm CNC-machined Billet Aluminum Turbo Inlets.
Modular Adapter Rings:
Modular adapter rings available for stock (54mm) and TheTurboEngineers TTE1020 (60mm) turbochargers.
Proprietary Air Filter:
High-flow pleated dry cotton panel filter with a massive 400 sq. in. surface area.
Quality Ribbed EPDM Couplers:
Heavy duty, heat resistant, flexible and durable EPDM couplers will not crack or tear over time.
Stainless Steel Hardware:
Rust resistant hardware that will outlast your vehicle.
Direct Bolt-On Fitment:
Utilizes all OEM mounting locations for simple installation.
Carbon Fiber Air Box

Carbon Fiber Cowl

74mm CNC-machined Billet Aluminum Turbo Inlets

Modular CNC-machined Billet Aluminum Adapter Rings

Carbon Fiber Winglets

Ribbed EPDM Couplers

High-Flow Pleated Dry Cotton Air Filter

Stainless Steel Clamps

Hardware Kit
Unbeatable Design and Construction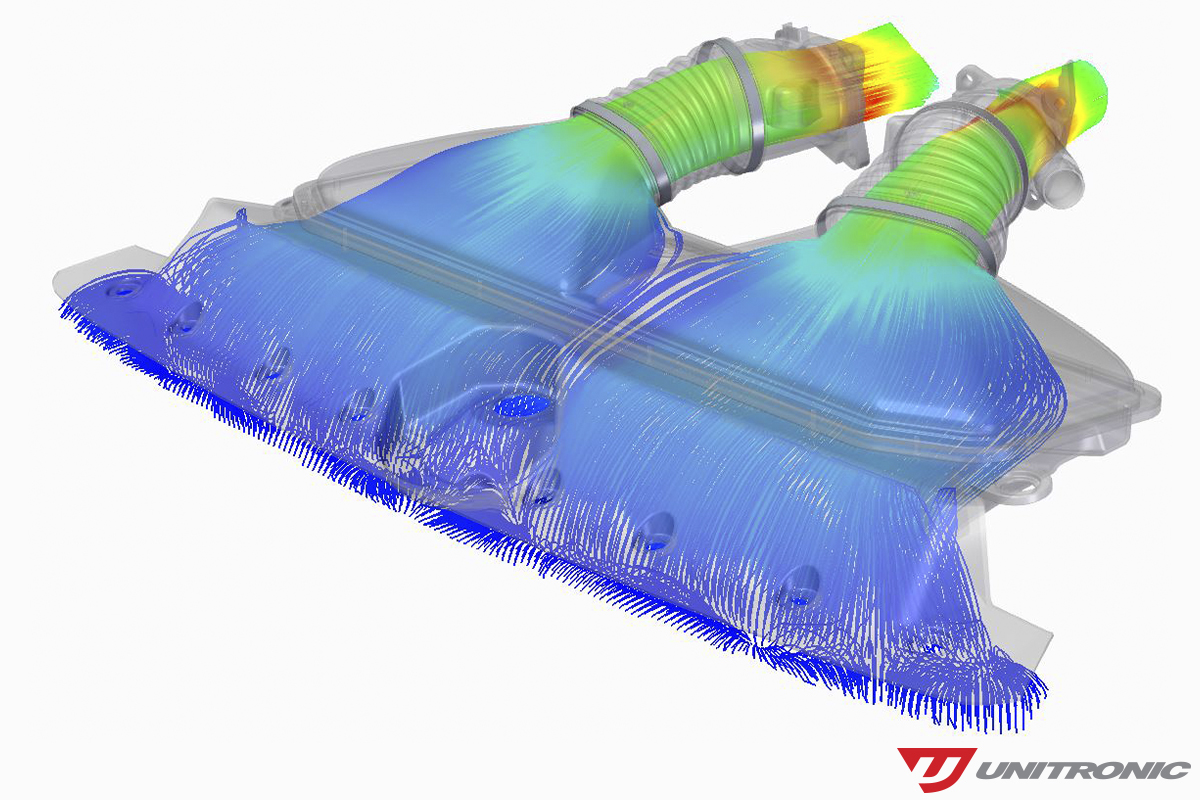 The aesthetics of the air box are derived from organic form that optimizes function. Its design allows induction to utilize the available volume to maximize performance. The two pronounced haunches featured in the top air box promote optimum airflow over the air filter's massive 400 square inch area. The bottom of the air box also features a sweeping divider to help distribute air flow across the area, as it provides the same amount of air flow to each turbocharger.
Quality Materials and Components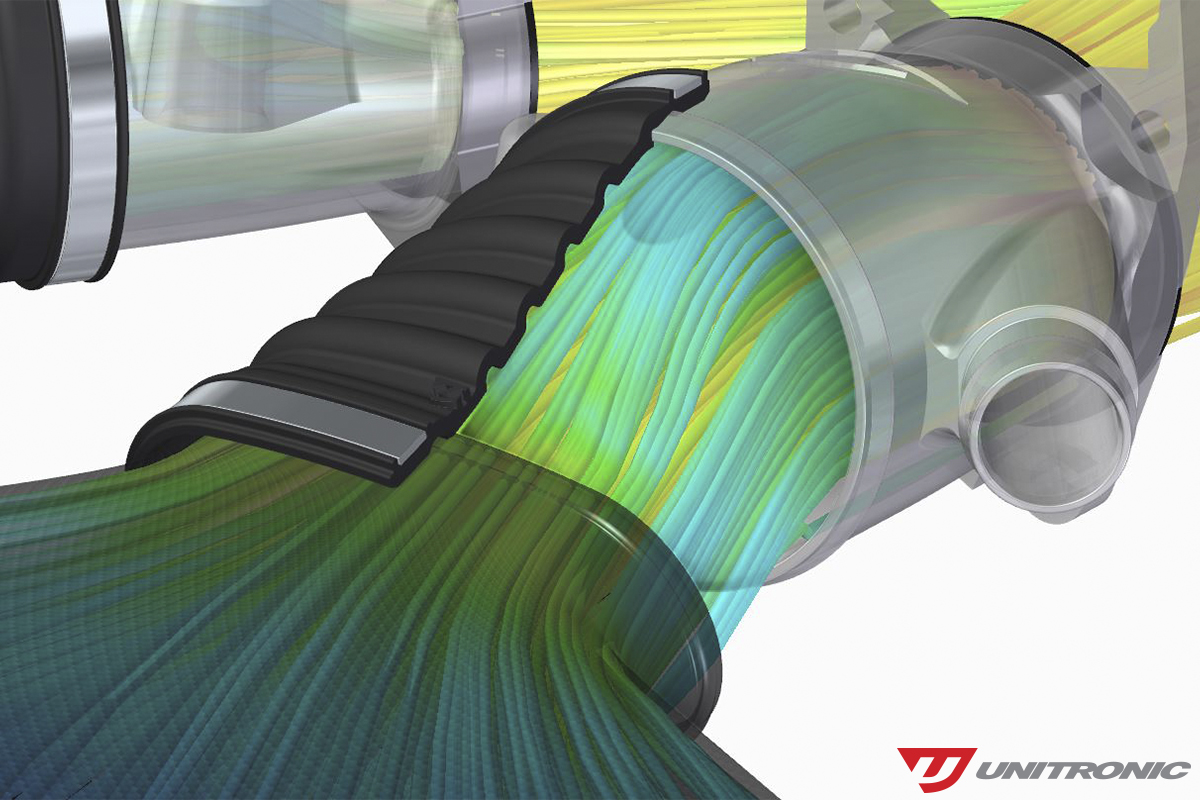 Our pursuit for perfection is applied even in the most minute areas of product design and in this case, Unitronic identified that allowing for ample tolerance for engine movement on an item that is both affixed to a dynamic engine and a rigid chassis. Rather than using traditional silicone for its hose connections, this Unitronic Carbon Fiber Intake System uses a high-quality, extremely durable Ribbed EPDM material for its couplers.
Proven Airflow and Power Gains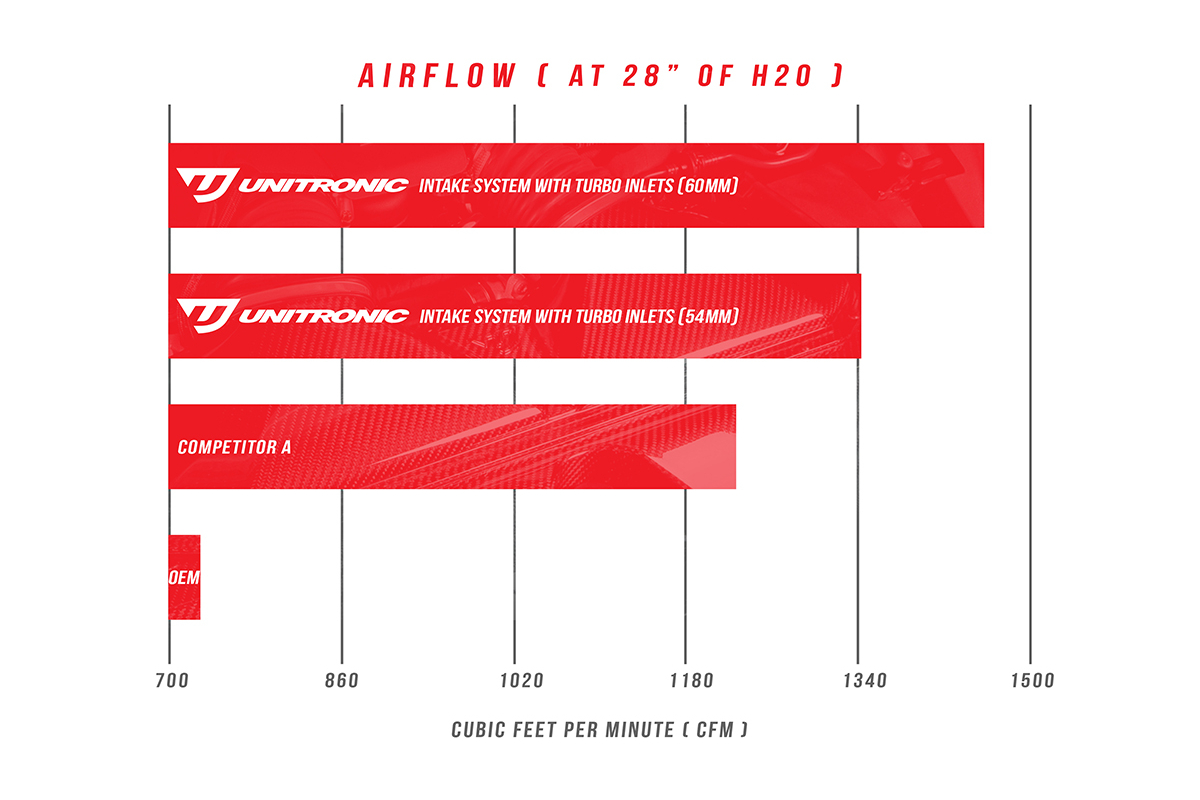 Unitronic Engineers validated designs with their wide range of in-house development tools, equipment, and software to ensure this new Carbon Fiber Intake System flowed better and developed more power with the help of their Superflow SF-1020 Flow Bench, Maha Chassis Dynamometer, and other resources. The staggering results showed up to 99.8% more airflow and 58HP / 54LB-FT over stock with our Stage 2 (93oct) development vehicle. (Similar gains with the Unitronic Carbon Fiber Intake System can be observed on Stage 1 and Stage 1+ Performance Software levels)
The Unitronic Carbon Fiber Intake System for the C8 RS 6 and RS 7 equipped with the 4.0TFSI EA825 engine is designed to be simple to install with all necessary hardware included. Installation time will take approximately one hour including the removal of the factory intake and installation of your new intake system.
Click Here To Watch The Install Video