Unitronic TTE1020 4.0TFSI EA825 Turbochargers
Go Back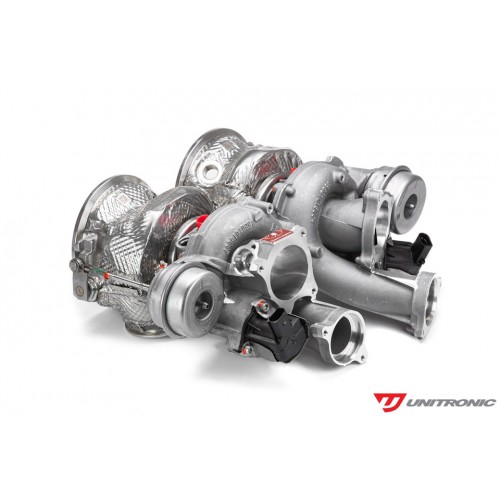 Product Information
The TTE1020 Hybrid Turbocharger Upgrade for the 4.0TFSI EA825 found in the C8 Audi RS6 and RS7 is capable of up to 936 HP / 830 LB-FT combined with Unitronic Stage 3 ECU Performance Software, Unitronic Stage 3 TCU Performance Software, Unitronic Stage 3 TCU Performance Software and supporting Unitronic Hardware upgrades.

The TTE1020's are remanufacturered factory turbochargers, with TTE fitting larger billet compressors and 9 blade exhaust turbines, with the appropriate milling of the exhaust housing to suite for greater power capacity. Precise balancing of the TTE turbochargers is a key critical factor to become a TTE upgrade unit, as longevity and performance are paramount. Good balance improves acoustics and subsequently, great care is taken with all TTE turbochargers to achieve the TTE balance standards. Firstly parts are balanced at slow speeds up to 2800RPM in multiple planes using TTE's esingle parts machine, then components are assembled, and then the CHRA's are dynamically balanced, but this time depending on the application, at up to 250,000 RPM in multiple planes using its in house VSR machine to acquire the ultimate equilibrium, to a standard far higher than OEM. Each turbocharger is supplied with a serial numbered balance test result document.
Features / Benefits
Genuine BorgWarner turbochargers as the base part (latest gen)

Genuine actuator

Genuine diverter

CNC special milled 5 axis geometry for the compressor

CNC 60mm inlet

Upgrade TTE billet milled compressor 6+6 Blade

TTE 9 blade larger turbines

Early response & spool

Proven TheTurboEngineers quality

Single parts finely balanced then components assembled and core high-speed VSR balanced

Supplied with a balance test result document

Made in Germany
Hardware Included
1x New pair of TTE1020 turbochargers with standard heat shielding (as pictured)
Required Software
Required Hardware
Install
When purchasing new, you may require an OEM breather and extra fixing for installation.
· OEM Breather PN: OP2 103 211F (double lug fixing breather)
· OEM Extra Fixing Screw PN: OP2 103 448
· OEM Breather PN: OP2 103 211D (singe lug fixing breather)