Unitronic Turbo-Back for MK7/7.5 GTI
Go Back
Product Information
This Unitronic Turbo-Back Exhaust System for the MK7/MK7.5 GTI equipped with the 2.0 TSI EA888.3 engine features a CFD optimized upper downpipe section with a GESi 5" UHO+ catalytic converter which flows into 3-inch T304 Stainless Steel mandrel bent tubing, a high density, high temperature fiberglass wool packed muffler and high quality v-band fasteners with T316 Stainless Steel flanges.

These attributes combined with extensive R&D testing, help ensure perfect fitment and maximum performance, while maintaining a comfortable and unobtrusive exhaust tone inside the cabin.
Features / Benefits
3-inch T304 Stainless Steel Tubing:
Top quality, rust-resistant material that will outlast your vehicle.
Direct Bolt-On Fitment with OEM Mounting Locations:
Uses all Factory mounting locations on the engine and on front subframe like the OEM exhaust.
T316 Stainless Steel V-Band Flanges:
Durable, rust-resistant and cnc machined.
400CPSI Catalytic Converter
GESi 5" G-Sport UHO+ 400cpsi Catalytic Converter which meets or exceeds local testing standards
TIG Welded Construction:
Professionally TIG welded to ensure longevity, durability and top tier craftsmanship.
4-inch Corrugated Stainless Steel Flex Section:
High quality flex with inner interlock that will stay leak proof for years. It allows engine movement without stressing the factory rubber mounts.
Unique V-Band Fastening System Featuring Clampco® clamps:
Maintain a perfect alignment of v-band flanges while ensuring a leak-proof connection every time. Fully reusable and quick to install with locked rotation.
Sound Reflection Chamber Technology:
Sound reflection chamber used to cancel unwanted sound frequency and ensure a deep tone.
Sound Absorption Technology:
Perforated chamber packed with High quality and durable high temperature Fiberglass wool. Ensure a deep tone and unwanted frequency absorption.
Straight-through, free flowing muffler design:
Optimal performance achieved by removing restriction and reducing back pressure.
3.5-inch Double Walled Polished Exhaust Tips:
Mirror polished tips engraved with the Unitronic logo.
Hardware Included
CFD Optimized Upper Downpipe Section

GESi 5" UHO+ Catalytic Converter

OEM-style corrugated mesh flex bellow

Resonated Midpipe Section

Fiberglass Wool Packed Muffler

Dual 3.5" Polished Exhaust Tips

Locking V-Band Exhaust Clamps

V-Band Sealing Rings

All Necessary Hardware
Required Software
Meets or Exceeds Local Testing Standards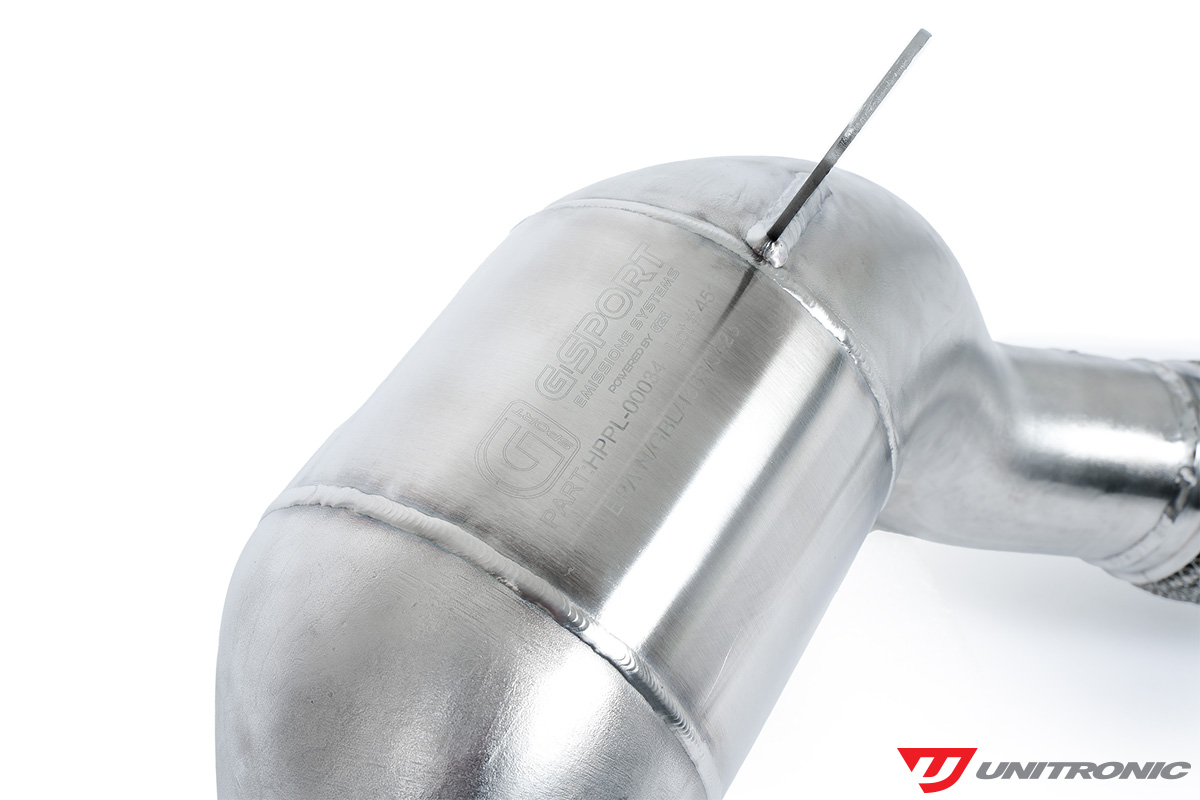 With the goal of ensuring this product would satisfy Unitronic's compliance demands, while also fulfilling our performance related goals, this Turbo-Back Exhaust System features a GESi UHO+ 5" Catalytic Converter which meets or exceeds local testing standards while being rated for a massive 1000HP.
Premium Design and Construction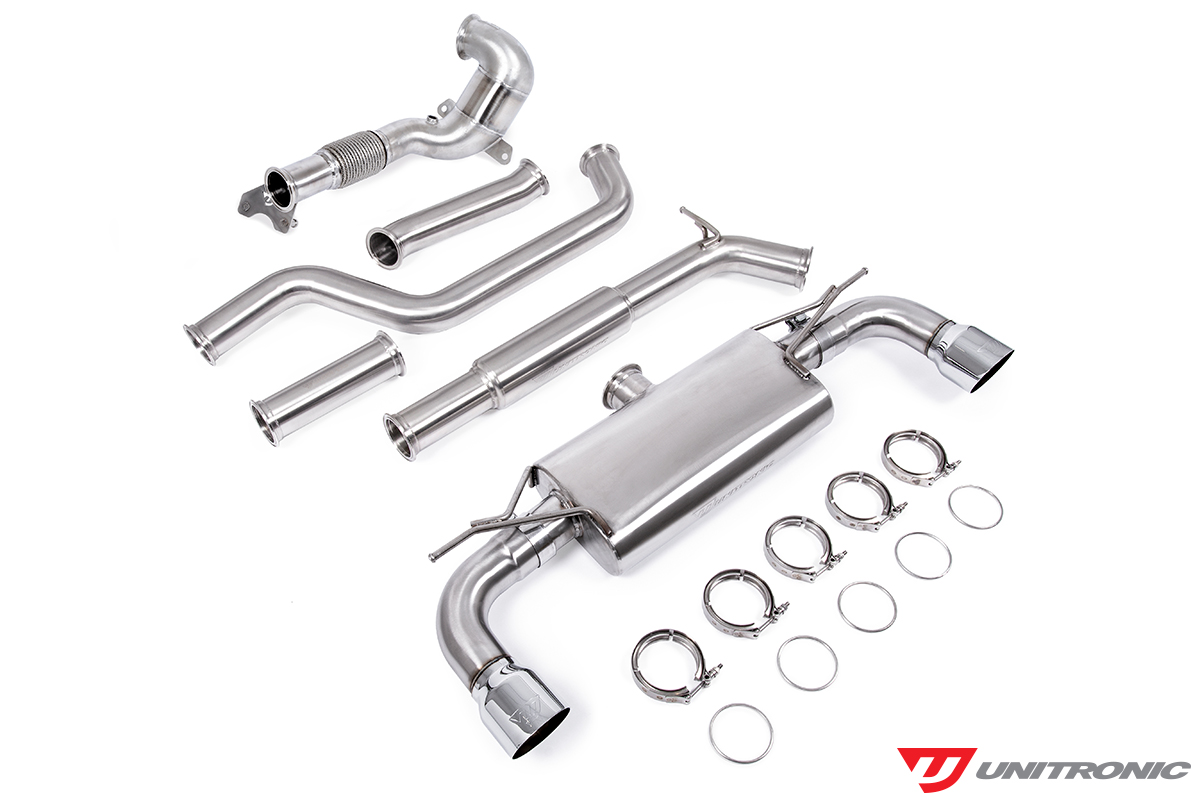 Constructed of high quality T304 stainless steel with an OEM-style corrugated mesh flex bellow, sound absorbing mufflers and locking v-band clamps, this Turbo-Back Exhaust System is sure to outlast the life of your vehicle.
Sealing V-Band Design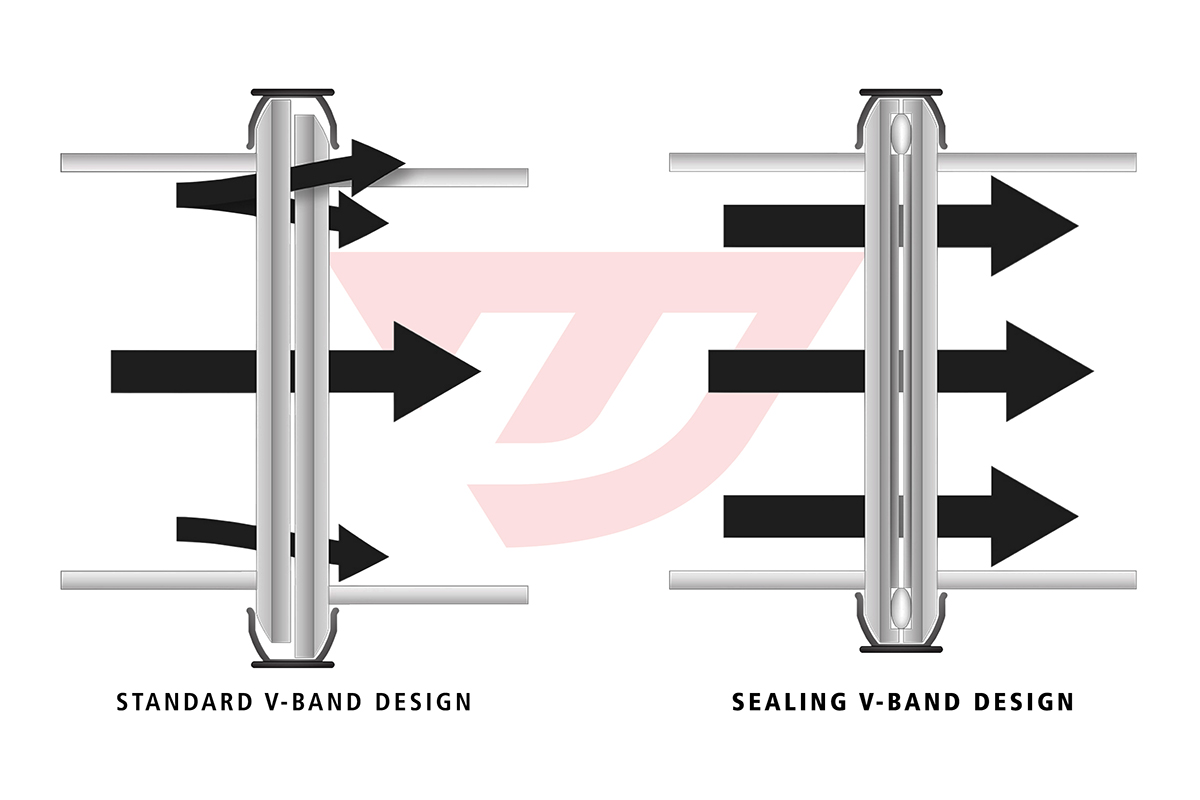 Unique V-Band Fastening System Featuring Clampco® Clamps which maintains perfect alignment while ensuring a leakproof connection. These clamps also help lock rotation so you can rest assured there will be no exhaust play during hard acceleration or spirited driving.