Wagner Tuning Performance intercooler kit for C43 AMG
Go Back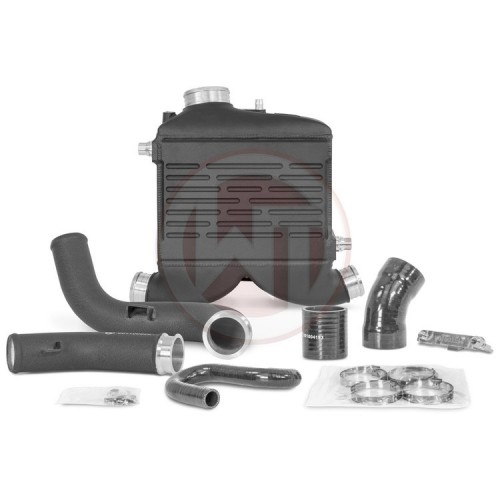 Product Information
The 3.0 liter V6 biturbo engine (M 276 DE 30 AL) of the Mercedes C43 AMG models is equipped with an indirect charge air cooling circuit. The cooling process for the charge air is therefore implemented using a water-cooled charge air cooler, which is replaced by the WagnerTuning high-performance charge air cooler.

The WAGNERTUNING high-performance intercooler has a new type of performance network with dimensions of 222 mm x 297 mm x 95 mm. This was specially developed for the high demands of the C43 AMG engine and offers 133% more external network volume compared to the original charge air cooler. The ratio used between the inner and outer cooling surface generates maximum heat transfer and at the same time enables the best possible internal air flow. The cast aluminum end boxes were designed in CAD and optimized with the help of CFD simulations. The result is excellent cooling properties with minimal back pressure. This kit is therefore also suitable for racing. Optimal cooling of the charged air with a significant increase in performance!

All WAGNERTUNING intercoolers are equipped with a heat-conducting anti-corrosion coating so that a permanent cooling effect is ensured. The installation of the system is also straightforward and can be carried out plug & play using our installation instructions.

Advantages of this product:
- significantly better cooling performance
- less back pressure
- more power and torque for your engine
- mechanical relief of the turbocharger
- 100% pressure resistance
- 100% plug and play
- up to 4 years warranty
- incl. Ø57mm (2.25inch) aluminum Boost pipe

network dimensions OEM intercooler:
200 mm x 207 mm x 65 mm
V = 2.7 liters

network dimensions WT intercooler:
222 mm x 297 mm x 95 mm
V = 6.3 liters

Not permitted in the area of ​​the STVO.