Wagner 2.7T Intercooler Kit
Go Back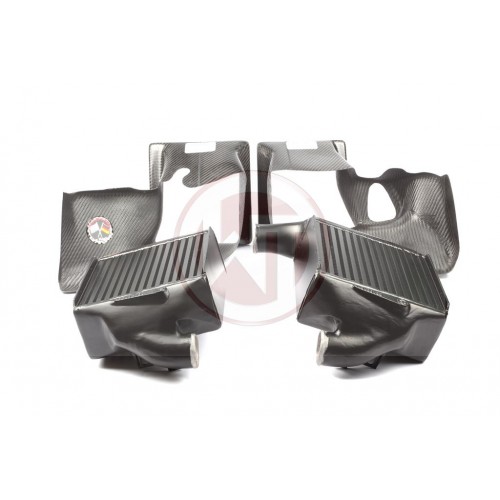 Product Information
The Wagner Tuning Audi B5 S4 Intercooler Kit is a high performance redesign of the original Audi OEM intercooler designed specifically for the B5 Enthusiasts.
Our engineers have increased the intercooler core and improved the end tank design to remove any OEM bottlenecks, resulting in increased flow rating and charge cooling properties.
Constructed of the highest quality Bar and Plate intercooler cores combined with cast aluminum and then CNC end tanks for reliable high performance air to air charge cooling.OEM+ Fit and finish for easy installation.
The Wagner Tuning Audi S4 / RS4 B5 Intercooler Kit features:
• High-performance Bar and Plate intercooler cores
220mm x 215mm x 90 mm vs. OEM 160x215x65mm
Calculated Flow Comparison:
- Wagner Tuning Intercooler 4257 cm
- OEM S4 Intercooler 2236 cm
- OEM RS4 Intercooler 2538 cm
• CAD optimized End tank design
• Ultra-Light Weight Carbon Fibre intercooler air ducting
• OEM installation points
• 38% more cooling area than OEM
• 90% greater flow volume than OEM
• Stealth Flat Black finish
• Simple Installation
Wagner Tuning Intercooler kit vs. OEM RS4 Intercoolers.
There are many claims on the internet that the RS4 intercoolers are the easiest upgrade for your S4 Intercoolers.According to our calculations above, there is a slight increase in performance, but is it worth it?
Below are a few of the issues you will encounter for this modest performance increase:
• The mounting tabs on the RS4 intercooler must be converted to the S4 style, including intercooler piping mounting differences.
• After you have installed the RS4 units, the engine will need to be modified to fit, as the RS4 Intercoolers extend further out and cut into the cover.
• The S4 bumper must be modified & cut inside to fit RS4 intercoolers
The Choice is Clear - The Wagner Tuning Audi S4 / RS4 B5 Intercooler Kit not only offers higher performance, but easy installation!