Revo IS20 Carbon Series Airbox Lid & Hose Kit
Go Back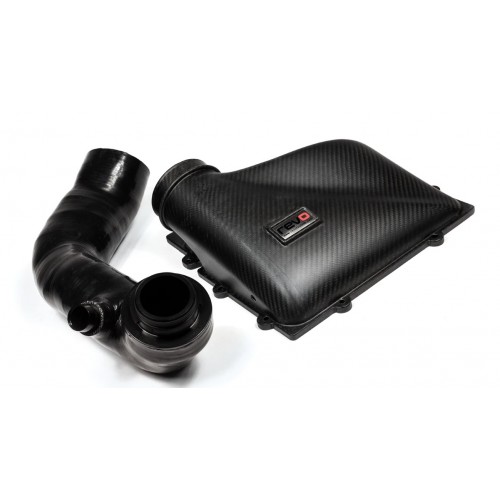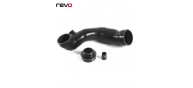 Product Information
The Revo Carbon Lid and turbo inlet hose have been designed and engineered to directly replace the stock air box lid, pipe and elbow found in vehicles with the 1.8 and 2.0 TSI engines with an IHI turbo. The Revo Carbon Lid offers a high-quality replacement, with its contoured design it not only just aesthetically pleasing but designed to improve airflow and performance of your vehicle.
Key Features
Increased performance & air flow

Carbon Series Quality

Engineered for both LHD and RHD fitment

16% Larger air box outlet
Turbo Inlet Hose
The Revo Turbo Inlet Hose is a high-quality single piece replacement for the restrictive OEM parts and promote smoother uninterrupted air flow, improving throttle response and the performance of your vehicle.
Increased Diameter for Carbon Lid

Turbo Matched Inlets

Constant Taper for Smoother Flow
Carbon Lid
The Revo Carbon Lid has been designed to increase air box volume and promote smoother airflow. The closed air system helps eliminate heat soak whilst directing cold air through its curved design directly to the oversized outlet.
16% Larger Air Box Outlet

Improves Air Flow Efficiency

Carbon Series Quality
Research and Development
All Revo products are designed in-house, allowing our team of engineers to rigorously test products during the design process. Only Revo offer a kit with a 16% larger lid outlet and matching hose, ensuring maximum performance at even Stage 3 and above specification.
Carefully designed airflow channels built into the carbon air box lid promote smoother airflow to the 16% increased diameter outlet, improving performance and removing previous restriction. Keeping a fully enclosed unit keeps intake temperatures to a minimum when combined with the carbon fibre material for increased insulation.
The larger diameter silicone hose maximises the increased airflow from the carbon lid to the turbo and replaces the restrictive OEM plastic turbo inlet elbow with a constant taper that ensures a smooth transition of airflow. The machined inlet has a radius bell mouth matched to the specific internal diameter of the IS20/IS38 turbo allowing the 21% increase in air volume to enter the turbo as smoothly as possible. All the parts together, including the internal steps on the silicone hose are designed to provide the ultimate in airflow characteristics and provide your vehicle with the hardware required increase performance.
Revo Flush Fit
Standard Fitment
Designed to utilise the bottom part of the stock air box, the Revo kit offers an improvement in performance and looks whilst maintaining an OEM quality fitment. This OEM fitment means that all LHD and RHD MQB platform cars with 1.8 & 2.0 TSI share the same air box and can benefit from this upgrade.