Revo Engine Mount
Go Back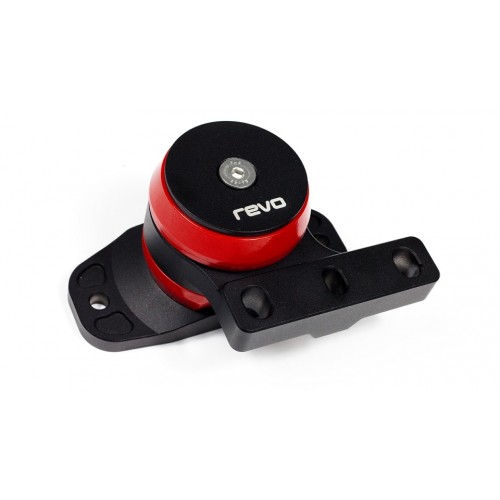 Product Information
More power results in more movement during aggressive acceleration. The stock engine mounts, designed to favour comfort over performance, fail to manage axle hop and torque effectively requiring you to ease off in order to gain traction. Designed to significantly reduce this engine movement, Revo engine mounts use Dual Durometer technology to minimise noise, vibration and harshness levels (NVH) while drastically improving traction and acceleration. The engine, transmission and torque mounts have been CAD designed to offer OE quality fitment with the performance benefits and quality of a Revo product.
Key Features
Dramatically reduce engine movement

Improved acceleration and torque

Powerflex polyurethane bushings
---
Engine & Transmission Mount
---
The primary design goal of the engine and transmission mounts was to provide a management system for engine movement during vehicle operation with increased power/torque, in order to retain vehicle acceleration and tyre contact during aggressive driving. The aforementioned solution must also continue to dissipate the NVH naturally created by the drivetrain. To accomplish this, the bushing design of past Revo engine mounts was retained in the MQB engine and transmission mounts, allowing Revo engineers to focus their efforts on bushing stiffness/type to accomplish the task.
---
Materials, Manufacturing & Fitment
---
Effective design and fitment plays a principal role in managing engine movement to ensure optimal acceleration and tyre contact with the road while dissipating NVH experienced from the drivetrain. Each component has been designed using CAD technology to ensure precision fitment and is supplied with class 12.9 hardware to replace the standard fixings. To ensure optimum strength and durability, brackets and housings are CNC machined from 6061-billet aluminium and finished with an anodised coating to protect from heat and corrosion.
---
OEM Comfort, Aftermarket Performance
---
To achieve the optimal balance between performance and comfort, several different durometer bushings were tested on a Volkswagen Golf Mk7 GTI. Bushings were systematically tested at precise increments at each mount location. A 3-axis accelerometer was used to quantify the NVH levels being transmitted into the cabin, as well as the acceleration of the drivetrain during loading.
Accelerometer data gave us a way to compare mount combinations against each other with a low data error percentage and to quantify driver comfort as well as engine movement. Supplemental data was taken from VCDS to ensure each individual test was standardised over a given throttle, RPM and speed range. The graph shows the amount of vibration measured whilst driving through the gears.
Instructions