Wagner Tuning Performance Package for BMW N20 Catted
Go Back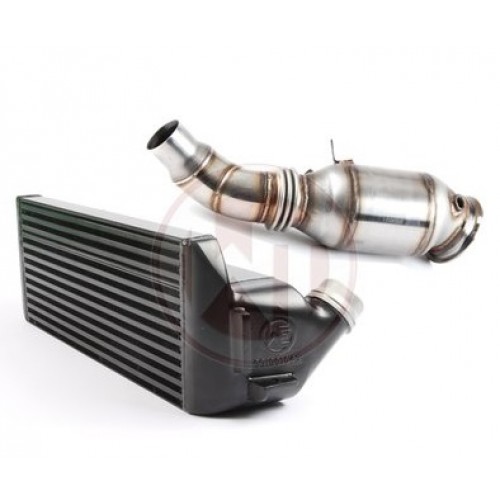 Product Information
The performance package for the BMW F-series consists of the intercooler upgrade kit, the N20 downpipe kit with 200 CPI racing catalyst and fits the following vehicles:

BMW 125i F20 / F21 BMW 220i F22 BMW 228i F22 BMW 320i (x) F30 / F31 / F34 BMW 328i (x) F30 / F31 / F34 BMW 420i F32 / F33 BMW 428i (x) F32 / F33

Intercooler Upgrade Kit 200001040

Stepped High Performance Intercooler Core. Size 520 x 210 x130, 11.752cm? Volume (OEM 510x130x110mm, 7293cm? Volume). Approx. 85% bigger surface over OEM IC. CAD / FEM optimized Aluminum Cast End Tanks. Plug & Play Installation using the stock plumbing, no cutting or bumper removal required. Weight is 8.8kg. TšV certificate is included.

Packing List:
1 Intercooler
1 Mounting Hardware
1 Installation Instructions
1 TšV certificate

Downpipe Kit for the BMW N20 engine 500001011

The Downpipe Kit for the BMW N20 engine 500001011 is a direct replacement for OEM BMW Part# 18327645666 made out of high quality stainless steel 1.4301 (SS304) 100% perfect fit, replace OEM less thermal load on the turbocharger more power by reducing back pressure significantly more torque 200cpi Catalytic Converter connection diameter is 105mm.

This item may not meet state requirements.

Limited 2 year warranty to original purchaser.
All Items subject to a restocking fee. Customer responsible for shipping cost to and from destination!

THIS ITEM CAN ONLY BE USED IN A COMPETITION RACING VEHICLE THAT IS NOT DRIVEN ON PUBLIC ROADS, UNDER CALIFORNIA STATE LAW IT IS NOT LEGAL FOR USE IN ANY OTHER MOTOR VEHICLE